The Technomancer review: This sci-fi epic is skin deep
The Technomancer has all the appearances of an epic sci-fi RPG, but it's surface level sheen over a cavalcade of boring.
This vendor-written piece has been edited by Executive Networks Media to eliminate product promotion, but readers should note it will likely favour the submitter's approach.
The worst kind of open world is an empty one.
It's a theme in The Technomancer, a game that so desperately wants to be a vast and sprawling RPG but never quite manages in that regard—except when it comes to sheer space, of which there is quite a bit. And so, after spending seventeen hours with The Technomancer ($45 on Steam) and seeing the credits roll, I'd guess probably a third of it was just me mindlessly running across a map while checking my phone.
Thrilling.
Electrifying
Technically a sequel to Mars: War Logs, The Technomancer puts you in the role of Zachariah Mancer—one of the titular Technomancers, a.k.a. a guy who can shoot electricity out of his body. If you haven't played Mars: War Logs (and I hadn't), the gist is that humanity colonized Mars but then lost touch with Earth, and those who were left on the Red Planet split into a bunch of competing corporate oligarchies.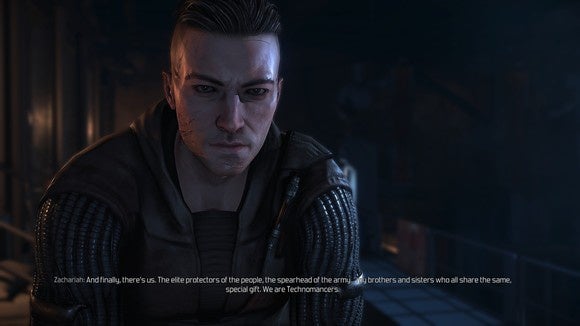 Zach lives in Abundance, an underground city and one of the chief superpowers on Mars. There, the Technomancers serve as glorified police officers—but not for long. The secret police are seizing power in Abundance, and Zach is cast out into the world to fend for himself.
Except for all the times he sneaks back into Abundance later. But we'll get there.
The best touchstone for The Technomancer is actually Chronicles of Riddick. Not the game. The movie. Like Chronicles of Riddick, this is a sprawling sci-fi epic that's so concerned with world-building and lore that it neglects to tell a compelling story in that setting.
And so the best thing I can say about The Technomancer is: The architecture is fantastic. Seriously. Most impressive is "The Exchange," which functions as the high-end administrative district of Abundance. The Exchange takes cues from Soviet-era Brutalism, all cold concrete facades and imposing totalitarian structures.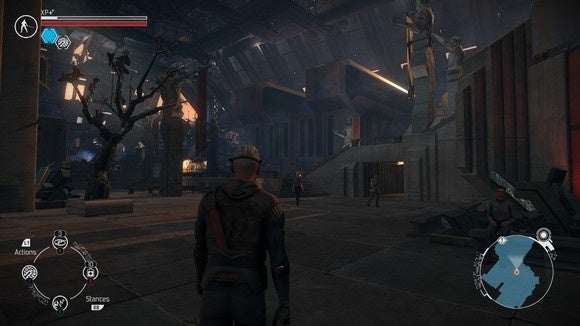 Contrast that with Noctis, a hidden city of merchants visited later in the game. Noctis is seemingly styled after traditional Bedouin culture, a city that revels in luxury but also looks like it could pack up and leave at any moment.
It's gorgeous, which is good because you're going to be running through these areas a lot. I'd like to say The Technomancer plays somewhat like an old BioWare game—we're talking Knights of the Old Republic era. But if I say that, some of you might rush out and buy it. That would be a mistake.