The top 5 sexiest Bluetooth headphones for less than US$300
These wireless headphones look as fabulous as they sound.
Bluetooth range
One pair of headphones we tested, Plantronics' BackBeat Pro, boasts Class 1 Bluetooth 4.0. That means if those headphones are paired with another Class 1 Bluetooth device, the BackBeat Pro can deliver range up to 100 meters (328 feet). Since most smartphones and portable music players are outfitted with Class 2 Bluetooth, this feature isn't as impressive as it sounds.
Active noise cancellation
Some Bluetooth headphones in the $200 to $300 price range will have active noise cancelation. In our round-up, just two of the five pairs of headphones we tested had active noise cancelation (and the most expensive ones, the $300 Sennheiser Urbanite XL Wireless, did not). Active noise cancellation uses small microphones to analyze ambient sound and then generates a low level of random noise with a frequency opposite that of the sound. The two frequencies mostly cancel each other out so that you hear silence.
Active noise cancellation can be a plus and a minus. When done well, you'll barely notice it in the absence of music, and you'll feel almost completely isolated from the outside world. It's great when you're on an airliner. When done poorly, you'll perceive noise cancellation as background hiss. The feature will draw on your headphone's battery power either way, significantly so in some cases.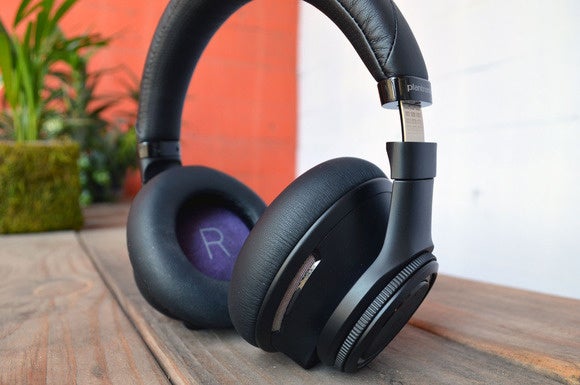 You can turn off the BackBeat Pro's active noise cancellation when you want to be aware of your surroundings. Credit: Sarah Jacobsson Purewall
Active noise cancellation isn't the only way to achieve such isolation. Passive noise cancellation can be achieved with a tight over-the-ear seal and is preferred by most audio purists. I found Sennheiser's Urbanite XL Wireless to have the best passive noise cancellation among the products in this roundup. But frequent flyers will prefer the active variety to be far more effective.
The sexiest Bluetooth headphones for you
While I have my personal preferences, I can't tell you which wireless Bluetooth headphones are the best for you, but I can narrow the field you need to consider. Every product has its pluses and minuses—nothing is universally perfect. Harman/Kardon's Soho Wireless, for example, is super lightweight and portable, but it has the least impressive sound quality. Sennheiser's Urbanite XL Wireless has the best sound quality, but I found its touch controls to be clumsy and it's almost twice as heavy as the Soho Wireless.
Take your own priorities into account while reading these in-depth reviews. What's most important to you: Audio quality? Portability? Comfort? Bass response? Battery life? Find which headphones deliver most of what you're looking for, and if at all possible, go to a store where you can try them on and—most importantly—listen to your favorite music on them.