Three amps for building your own desktop audio system
If you've got a set of traditional bookshelf speakers gathering dust, it's time to pull them out of the closet. We take a look at three compact amplifiers for creating your own desktop audio system.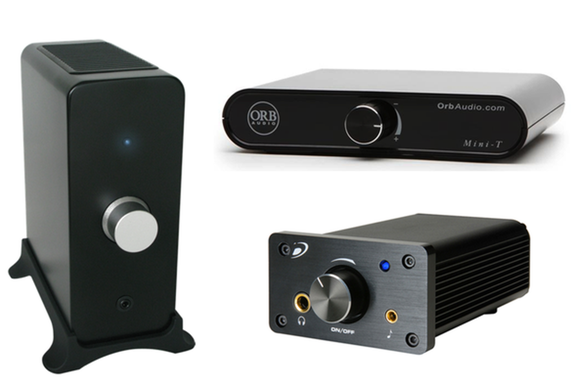 I suspect a substantial number of people have an old pair of speakers sitting in storage: hand-me-downs from a family member, perhaps, or the remnants of a stereo of their youth. Such speakers can be repurposed to build your own iPod stereo or AirPlay audio system, but they can also be used to put together a quality desktop stereo. (If you don't have an old set of speakers, there's a huge variety of unpowered speakers available that offer impressive performance, beauty, or value--or some combination of the three.) All that's required to get your old (or new) speakers making music is an audio source (an iPod, iOS device, Apple TV, Airport Express, Bluetooth audio receiver, old CD or DVD player, or computer) and an integrated amplifier or stereo receiver.
Unlike powered speakers (such as computer speakers, powered monitors, and speaker docks), which have built-in amplification, passive speakers require pre-amplification to adjust the signal's volume to desired levels, and power amplification to further boost the signal so that it's strong enough to make the speakers move and produce sound. An integrated amplifier combines a pre-amp with an amp.
But while many people think of an amplifier as a big, bulky piece of hardware, these days it's easy to find integrated amplifiers that provide good sound while being small enough to fit on a desk or nightstand. I previously reviewed several compact models with built-in digital-to-analog converters (DACs)--these accept a digital signal rather than an analog one, processing that signal with higher-quality circuitry. But if your source's audio quality is "good enough" without an external DAC, or if the source offers only analog outputs, a traditional analog amplifier will suffice. This time around, I look at three small, integrated amplifiers--just what you need to make an affordable desktop audio system.
Orb Audio Mini-T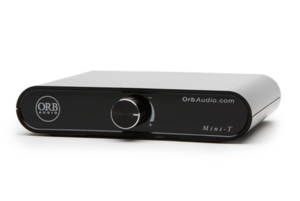 Orb Audio's Mini-T
The most basic--and least expensive--model here is Orb Audio's $118 Mini-T Amplifier V2. (Despite the official price of $118, Orb Audio seems to perpetually offer the Mini-T for $69). Orb Audio's focus is on the company's spherical Orb passive loudspeakers; the Mini-T is offered primarily as an easy way to turn a couple Orbs into a simple stereo-audio system. But the Mini-T works with passive speakers from any vendor, as long as they don't demand more power than the Mini-T can provide.
The Mini-T is a surprisingly light, glossy-black rectangular box--about the size of a small paperback book--with rounded ends. Its front panel features a volume knob that also acts as a power on/off switch, with a blue power LED that rings the volume knob. (The LED shines through the case, producing a subtle but cool effect.) The amp's back panel features spring-clip speaker terminals that accept bare wire or speaker cable terminated with pins; a jack for connecting the Mini-T to the supplied power adapter (a brick that weighs more than the Mini-T itself); a 3.5mm stereo-audio input, and a mono RCA output for use with the company's subwoofers. The Mini-T's compact size and light weight are nice, but they do have one drawback: If your cables are on the stiff side, they can make it difficult to keep the Mini-T stationary.