Three amps for building your own desktop audio system
If you've got a set of traditional bookshelf speakers gathering dust, it's time to pull them out of the closet. We take a look at three compact amplifiers for creating your own desktop audio system.
Like the $180 Topping TP30 (3 of 5 rating) I previously reviewed, the Mini-T is built around a Tripath Class T amplification chip, similar to high-efficiency switching Class D designs. Orb says the amp produces 10 watts per channel when connected to typical 8-ohm speakers.
Dayton Audio DTA--100a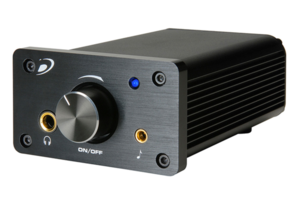 Dayton's DT-100a
Like the Mini-T, Dayton Audio's $130 DTA--100a Class-T Digital Mini Amplifier is a Class T design. Also like the Mini-T, the DTA--100a seems to be perpetually discounted: It's available from Parts Express, Dayton's official distributor, for just $89.
Though the DTA--100a is also a small black box, it's narrower and taller than the Mini-T, and noticeably heavier, due in part to its black, extruded-aluminum body and brushed-aluminum front and back plates. The look and feel of the case make it a substantial improvement on the Mini-T's plastic case.
The DTA--100a's front panel has a central volume knob that doubles as a power switch. To the left is a 1/4-inch jack for connecting headphones; doing so mutes output to the speaker outputs. To the right is a 3.5mm stereo-input jack for connecting an audio source. Unfortunately, the DTA--100a, like many other inexpensive electronic devices, sports an annoyingly bright blue power LED--bright enough to serve as a flashlight, or, unfortunately, a distraction.
The DTA--100a's back panel has a set of stereo RCA inputs for connecting an additional source. This input is intended for a permanently-connected source, while the front input is intended for temporarily connections--plugging a source into the front panel's input overrides the rear input. There's also a jack for connecting the included large power brick, and, of course, speaker connections. The speaker terminals accept only banana-plug connectors, but these are included and relatively easy to install on standard speaker wire. The package also includes other useful extras such as a 3.5mm-to--3.5mm interconnect and a 3.5mm-to-stereo-RCA adapter for connecting audio sources, and a miniplug-to--1/4-inch adapter for connecting headphones. Dayton rates the DTA--100a at 50 watts per channel into an 8-ohm load.
Audioengine N22
At $199, Audioengine's Audioengine N22 Premium Desktop Audio Amplifier is the most expensive unit here. It's also the biggest, offers the most features, and has the sturdiest construction. Audioengine markets the N22 for use with the company's $249 passive P4 Premium Passive Bookshelf Speakers, but, like all models here, it can be used with any set of passive speakers.
The N22 is about twice the size of the DTA--100a and has an attached stand to position the unit vertically, which aids the N22's convection-cooling system (warm air rises out of the top of the unit, replaced by cooler area coming in from beneath). Although the N22 is larger and heavier than the other amplifiers--attributable at least in part to the quality of its components--this heft makes the amp substantial enough to stay in place, and its vertical orientation keeps its footprint small. The front of the N22 is relatively sparse, featuring a blue power LED (of reasonable brightness, thankfully) above a centrally located, solid-feeling volume knob that also serves as a power switch. Below the knob is a 3.5mm headphone jack, which will probably be more convenient for most users than the 1/4-inch jack on the DTA--100a. Connecting headphones mutes the N22's speaker outputs.
Previous Page 1 2 3 4 5 6 Next Page