Triby review: Alexa transforms a silly gadget into a family-oriented digital assistant
The Triby outperformed any other speakerphone I've had in my kitchen. Its speaker function was smooth and clean: People on the other end of a Triby VoIP call could hear me clearly, and their voices consistently sounded intelligible.
Nice screen but too small
The Triby's front sports a 2.9-inch, always-on E-Ink display. While it's only black and white, it's visible in pretty much any lighting condition. I found the display to be consistently clear and legible—even from eight feet away.
I will say, however, that most people will find the size of the display, as well as the size of its text, too small for anything but up-close viewing. The display has a crude Etch A Sketch look to its text and graphics, too. You can program most of the display's features using the Triby smartphone app. Having it display nothing is an option, too.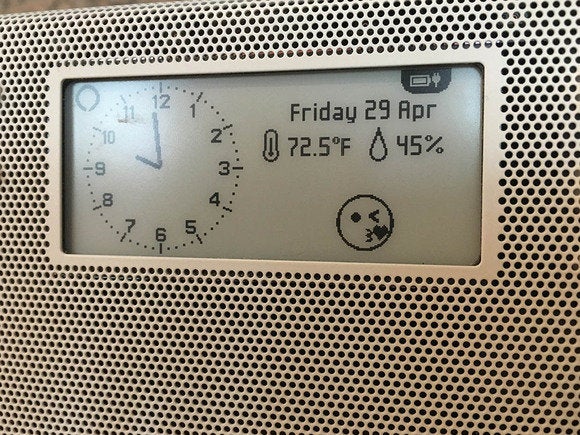 The Triby's screen does an excellent job of remaining legible even in direct glare. Credit: Theo Nicolakis
The Triby app tries to do too much
The Triby's companion mobile app bundles a variety of services; namely, messaging, VoIP calling, and radio stations—under one umbrella. The messaging app allows you to doodle notes or send emoticons to the Triby; VoIP calling allows you to call the Triby or other people with the app; and the radio section allows you to play and organize a host of Internet radio stations.
The app and it's related services all work as advertised, but you can only exchange messages with other people who have the app installed. I don't know about you, but I'm at the stage of app overload, and so are many of my friends and family that I might want to exchange messages with. I really don't need yet another messaging service.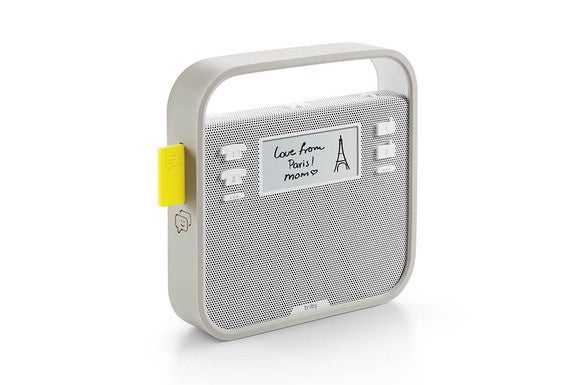 The Triby has a unique messaging feature: A yellow flag pops out of the left side when a new message arrives. Credit: Invoxia
While these features might be fun for little kids, I think they'll drive parents nuts. You can type or draw messages on the app and send them to the Triby. When a message arrives, a little yellow letter flag will pop out of the Triby's left side. Message senders will know when their messages have been seen when someone taps the yellow letter flag. That's cute, but it's not practical in the long run.
Having no keyboard, replies from the Triby are limited to emojis. Would a household couple ever downgrade their communication habits that way? I tried—I really did—to use this feature, but its novelty wore off after three or four days. Sans Alexa, the Triby is a nice toy, but it's pretty useless for real-world communications.
Previous Page 1 2 3 4 5 Next Page