TV binge-watching at its best
Nothing better to do during the long holiday weekend? Try binge-watching some great streaming TV.
When you watch it in big chunks, it's fun to see the evolution of Nancy's younger son Shane (Alexander Gould), as he grows from bullied oddball kid, to stone-cold killer, to police officer by the end—with some very unfortunately facial hair choices. And Kevin Nealon provides plenty of comic gold throughout. The 30-minute episodes are a breeze to blow through one by one, and it's a fun ride.
24

24 premiered in 2001 and ended in 2010. And in many ways, it's the show of the aughts, featuring counterterrorism, chemical weapons, cyber crime, political intrigue, government corruption, and one badass named Jack Bauer who has 24 hours to save the day, no matter what it takes.
The shtick of this show is its real-time action: Each hour-long episode is meant to represent an hour in Jack's horrible, no-good day. Other shows had experimented with this for an episode (Seinfeld's "The Chinese Restaurant" episode, for example, or the Friends episode "The One Where No One's Ready"), but 24 kept it up for its entire eight-season run. It's perfect for binge-watch it on Netflix or Amazon Prime, since no commercials break up the action and you don't have to wait an entire week for another hour. (The series is also available on Hulu Plus, but with some commercials.)
Kiefer Sutherland is perfect in his role as the flawed, intense Counter Terrorist Unit agent—it's fun to imagine that Jack is just a grown-up version of Ace Merrill, the bully Sutherland played in Stand By Me, doing his penance over and over again for stealing Gordie's Yankees hat. (In fact, Eric Belfour plays a character named Milo Pressman in both Stand by Me and 24, so...totally the same universe, right?) Anyway, 24 is great, and if you didn't watch its original run, it's even better streaming.
...and, of course, The Wire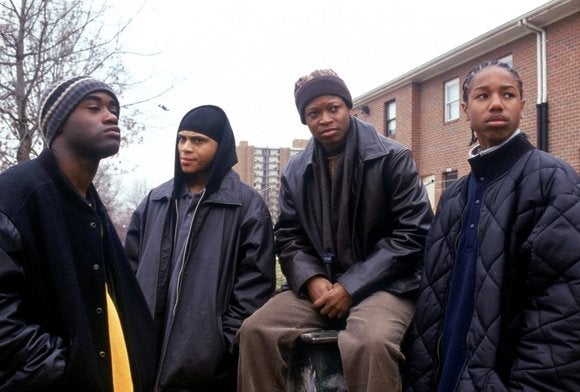 Look, The Wire might just be the greatest television series ever filmed. It starts with the story of the Baltimore Police's wiretapping operation to catch a gang of notoriously violent drug dealers, but with each new season the focus shifts, from the Barkesdale drug crew, to the stevedores union down at the docks, to City Hall, to the public school system, and finally the media (a fictionalized version of The Baltimore Sun). It's perfect for binge-watching—in fact, watching and rewatching long stretches of this show is all but required to be able to fully understand it. The characters never give exposition, and there are no obvious reminders to the viewer that this scene or that line of dialogue will turn out to be vital later on. And the dialogue itself is thickened by heavy accents and authentic-sounding street slang—it would be hard to keep up with if you couldn't rewatch anything.
Previous Page 1 2 3 4 Next Page