Two cameras in iPhone 7 Plus allow synthetic zoom, soft-focus backgrounds
Apple's latest camera innovation turns photos into data streams that can be prodded for many different kinds of enhanced results.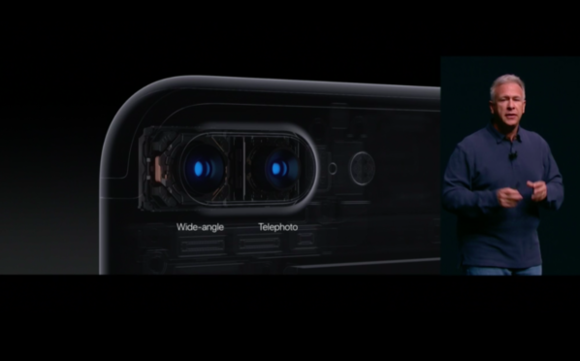 The new iPhone 7 Plus introduced at Apple's September product event sports two cameras, set closely side by side, as was widely rumored. Philip Schiller, Apple's senior vice president of worldwide marketing, described the system, which pairs a 28mm wide-angle lens, just as in the iPhone 7, with a new 56mm telephoto lens.
Apple will release the phone with hardware-based 1x and 2x zoom, and a software synthesized zoom between the two. An improved digitally interpolated zoom mode handles images above 2x to 10x. A software update that will ship later will add a Portrait mode that creates photos that look like they came from much more expensive digital cameras.
Double duty
Two cameras don't just take two pictures: Their lenses collect data that software shapes into images or video. Simultaneously captures allow for a range of possibilities, many of them involving computational photography, a field that mines image data or image sensors to produce a photograph as a possible outcome, rather than a straightforward picture.
The most common use is high-dynamic range (HDR) photography, available in the iPhone for years, in which pictures taken in quick succession with different exposure settings are processed into a single image that has detail in both the brightest and darkest areas. The most prominent hardware example was the Lytro, a now-discontinued camera series that computed light rays-the direction of each captured pixel-and could use that information to produce an image that could be refocused after the picture was taken.
At launch, Apple will use the two cameras to allow photos to be taken with the native 28mm and 56mm cameras, but it will also synthesize zoom ratios between 1x and 2x by calculating data from both lenses. These won't be manufactured images, like a digital zoom, but will extract and combine data to produce something likely indistinguishable from a true variable optical zoom.
The digital zoom has been improved-and extended to 10x-because the phone will be able to interpolate missing data by capturing more information between the two cameras. Digitally zoomed photos will still look somewhat artificial, but the results should be substantially crisper and more realistic than single-camera iPhones.
Portrait mode
Schiller also said that developers worked on an "extra credit" project that will ship as a free update for iPhone 7 Plus owners later this year. This new Portrait mode will simulate "bokeh" (boh-keh), the sharp-focus foreground paired with blurry background that's a hallmark of very shallow depth-of-field expensive lenses and camera systems. "The higher the quality of the bokeh, the more advanced and higher quality the photo system," Schiller said.
The iPhone 7 Plus can accomplish this through machine-learning recognition of objects in a scene, which let it identify people, and by using images captured from the two cameras, to differentiate focal planes. The result is synthesized, but could appear fairly realistic.