UOB customers can now use their smartphones as a digital security token
Customers can now use their smartphones mobile phones as a second form of security feature to conduct bank transactions safely on UOB's Mighty mobile app.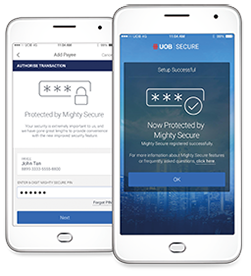 Credit: UOB.com.sg
UOB Singapore has launched Mighty Secure, a digital security feature which allows users to use their mobile phone as a security token for safe authentication while using the UOB Mighty app.
According to the bank, more than 9,000 UOB users conducted fund transfers or credit card bill payments using their mobile devices in the month of October. Moreover, UOB Mighty users grew by 43 percent in 2016, said Dennis Khoo, UOB's Head of Personal Financial Services Singapore.
To complement this changing user behavior, UOB wants to provide an additional layer of security for mobile app transactions via Mighty Secure.
To access Mighty Secure, UOB customers must log into the UOB Mighty app on their smartphones via a PIN or fingerprint authentication, after which, they will need to enter their UOB Mighty Secure PIN for a one-time password on their phone. This two-factor authentication is said to offer a better protection against fraudulent transactions.
"UOB Mighty Secure effectively turns the smartphone into a security token, and is the next step in a series of innovations that the bank has introduced to enhance our customer's banking experience," added Khoo.
Existing users need to upgrade their UOB Mighty app to use the Mighty Secure feature. Otherwise, they can download the app from Apple's App Store or Google Play.