Urban Empire preview: SimCity, from the eyes of a minor government official
Power tripping.
What I saw was just a small piece of that first era, all dirt roads and dusty carriages, so I'm not prepared to talk about how the cities change over time.
It makes for an interesting demo, though. I've always felt city builders were at their weakest in the late-game, when you have millions of dollars and nothing to really spend it on. It becomes a slow and steady game of "Fill The Map" at that point, and as long as you've mastered the fundamentals there's not much to trip you up. No new challenges arise, as long as you can keep money in the bank.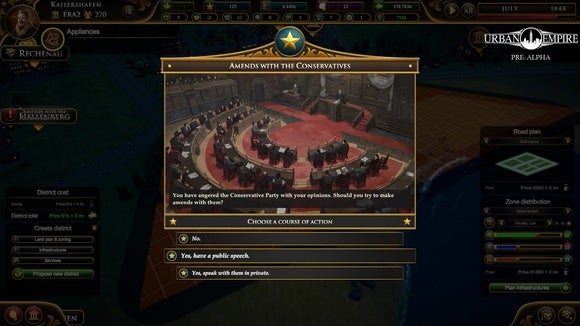 Urban Empire seems like it'll only get harder as time progresses. Not only do you have to deal with a more educated and strong-willed workforce, but party lines become increasingly entrenched. After all, overcoming stubborn party leadership is quite a bit easier when your ancestor didn't beat someone else's ancestor with a cane in 1856 and cause a permanent rift between the two sides.
Yeah, that really happened. Politics used to be brutal.
Canings aside, Urban Empire seems like it has the potential to fill yet another city builder niche, akin to Tropico. The challenge here is two-fold. 1) Represent events (i.e. World War II, the Cold War) with an appropriate amount of gravitas—or at least some semblance of plausibility. 2) Make it fun.
A stiff challenge, but as a history fan I'm hoping Urban Empire can pull it off. The game is scheduled to release sometime in the fall of 2016, for all you wannabe city board members and state representatives and other C-tier government officials.