U.S. patent numbers decline; IBM retains top spot in IFI ranking
Tech companies made a strong showing among the top U.S. patent recipients for 2015, but ranking questions emerge.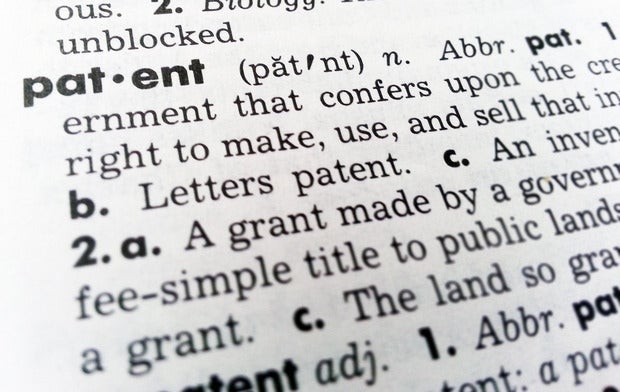 A definition of patent Credit: Michelle Maher / IDGNS
The number of U.S. patents granted declined for the first time since 2007, ending a seven-year run of increases.
According to IFI Claims Patent Services, there were 298,407 utility patents granted during the 2015 calendar year. That represents a decrease of almost 1% compared to 2014, when patent grants hit 300,674 and surpassed the 300,000 threshold for the first time. IFI, which specializes in patent analysis, tracks utility patents from the U.S. Patent and Trademark Office (USPTO), and each year it releases its annual ranking of the top 50 recipients.
For the 23rd year in a row, IBM topped IFI's ranking. IBM received 7,355 patents in 2015, which is down slightly from 2014, when IBM was awarded 7,534 utility patents.
Ranked second in IFI's tally, Samsung Electronics received 5,072 patents in 2015, a gain over its 2014 haul. Canon maintained its third-place ranking with 4,134 patents in 2015.
Tech companies made a strong showing among the top U.S. patent recipients for 2015, but there was some shuffling of the ranks. Big climbers in IFI's list include Qualcomm, which moved up three places to land in fourth place with 2,900 patents, and Google, which climbed three places to the fifth slot with 2,835 patents. Microsoft, meanwhile, fell in the rankings to the tenth slot with 1,956 patents. A year ago, Microsoft was ranked fifth with 2,829 patents.
One of the reasons for the shifts is due to where patents are being parked. In 2015, three patent power players began to change the way they hold their patents, IFI notes. The majority of Microsoft's 2015 patents were granted to Microsoft Technology Licensing LLC (1,956), while 465 were granted to Microsoft Corp. Panasonic's patents were divided among Panasonic Intellectual Property Management Co. Ltd. (1,474), Panasonic Intellectual Property Corp. of America (458), and Panasonic Corp. (300). Google Inc. earned 2,835 patents, while Google Technology Holdings LLC came away with 360 patents.
Other companies have spread out their portfolios before -- such as Samsung, HP and AT&T – but it's becoming more of a trend, according to Larry Cady, a senior analyst at IFI Claims.
"Rather than keeping all corporate patents under a single registration, some companies are choosing to spread their portfolios across multiple entities," Cady said in a statement. "This is why we are seeing such dramatic movement this year with Microsoft and Panasonic, which all started assigning some patents to newly formed holding companies."
The trend has become cause for some dissension in the area of patent analysis.
In December, a data journalism source called Sqoop published its analysis of patents granted by the USPTO (from the start of 2015 through December 11) and reported that Samsung unseated IBM as the top patent recipient. In Sqoop's tally, Samsung is ranked first because Sqoop combines patents granted to a parent company and its subsidiaries and affiliate companies; in Samsung's case, that includes Samsung Fine Chemicals Co. Ltd., Samsung Display Co. Ltd., Samsung Electro-Mechanics Co. Ltd., Samsung Electronics Co. Ltd., Samsung SDI Co. Ltd., Samsung SDS Co. Ltd., and Samsung Techwin Co. Ltd.