What would a US-China cybertreaty really mean?
It's good to talk, but this is just a starting point, say observers.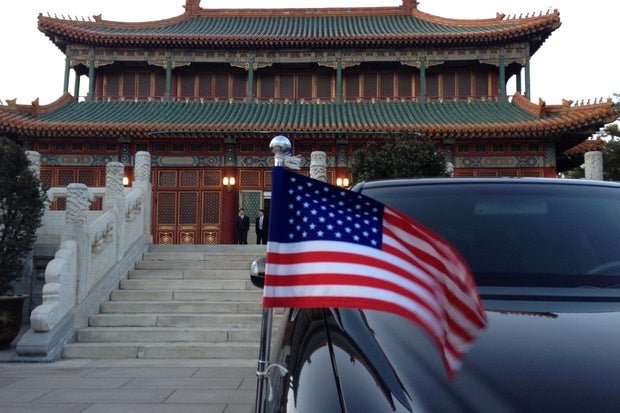 The U.S. flag flutters on a car in Beijing, China, on April 13, 2013. Credit: Department of State
After weeks of meetings, the U.S. and China appear to be on the verge of an historic first agreement on hacking and cyberespionage. But besides smiles on the faces of Presidents Obama and Xi in front of TV cameras, what might a deal actually accomplish?
The two sides are talking because companies are increasingly being hacked for their corporate secrets. Last year the U.S. Department of Justice indicted five Chinese military hackers for attacking U.S. companies and earlier this week National Security Advisor Susan Rice warned the hacking "has to stop." China has denied involvement and President Xi said this week that Chinese companies are also coming under attack.
"The overriding thing during the discussion will be that the exfiltration and theft of U.S. private sector IP has to stop and the U.S. government will hold the government of China responsible," said James Barnett, head of the cybersecurity practice at Washington law firm Venable and a former security chief at the Federal Communications Commission.
"Whether it is discussed or not, the veiled threat will be the possibility of bringing some type of pressure to bear, be it economic or otherwise, while at the same time dangling some carrots," he said.
Barnett said he expects the agreement to be a "statement of principles" rather than a more concrete deal that gets into the nuts and bolts of the issue, but more important is that the world's two biggest economies are starting to talk about the issue.
One of the challenges to any agreement will be attribution. Figuring out who is behind a cyberattack is notoriously difficult and governments have historically been reluctant to publicly blame another country. The DOJ indictment of the Chinese hackers last year and the laying of blame for the Sony Pictures cyberattack on North Korea represent a couple of rare examples.
Sometimes investigators do get lucky through a careless slip or find a clue in software code, but often it's difficult to distinguish between a state-sponsored attack and something else, said Terrence Gareau, chief scientist at Nexusguard, a San Francisco-based DDOS protection company.
"It's not like building nuclear weapons or launching missiles," he said. "A lot of the attacks come from the universities. When that happens, [the Chinese government] is going to point their hand and say 'it's not us'."
Attribution is further complicated by the complex nature of some attacks, which might have several groups working together or separately to target a company.
"I've worked on dozens of takedowns of significant systems," said Tom Patterson, vice president of global security solutions at Unisys. "The attribution game is a fool's game. There is almost never a single group behind it."