Why QR codes are important to iOS 11 and China
A sleeper feature, QR codes have heavy use in parts of the world. Could they spread with automatic recognition in the Camera app?
They took off for a different reason in China: before the relatively recent support for accessing a website using a name entirely in Han characters (a combined set of ideograms from Chinese, Japanese, Korean, and other languages), it was a real pain to punch in a URL. A QR code bypassed that, providing analog-to-digital glue.
That was much less of an issue in America, Europe, and some other markets, and handset makers and carriers didn't opt in to several competing efforts to incorporate a QR code mode in camera apps or even automatic recognition. Without any native support, you needed to install a third-party app, and that's no path to full-scale adoption unless there's something incredibly compelling. Instagram was compelling; scanning QR codes to get a coupon not so much.
Google decided QR codes were the bomb several years ago, and started using them with Google Play, some of its local branding for retail stores, and other products. Android didn't have native QR code support, but some phone makers offered various ways to scan them. Motorola added automated scanning in its camera app in August 2015, for instance.
Unless you use a particular app that uses proprietary or single-category codes, like Walmart's for in-store payment or a second-factor authentication app, it's possible you've never scanned a 2D code. In fact, there's a joke site created in 2012 called Pictures of People Scanning QR-codes. The joke? There are no photos.
Why scan instead of typing?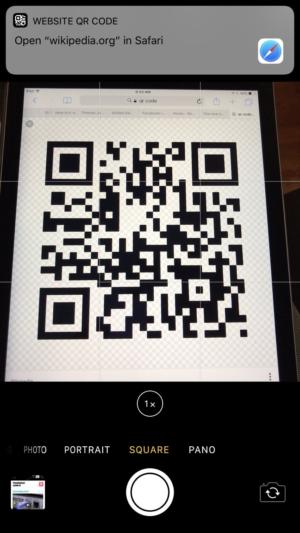 When a QR code comes into the field of view of the camera, it's recognized, and you're prompted that you can take action, like opening a URL. Credit: IDG
Integrating QR code automated recognition in iOS 11 solves the chicken-or-egg problem. While I saw and reported on spates of interest in 2D codes over the last eight years, they always fizzled because they required too much effort. Now, Apple provides an asymmetrical benefit: the feature, on by default, requires a user to do nothing, and it's discoverable if you happen to hold your camera up and a QR code is anywhere in the frame. I expect many people will be surprised by it.
Apple, like Motorola, has built in a safeguard. Scanning a QR code doesn't automatically take action on it. That would be horrific, because imagine people tagging things with unspeakable images reached by simply scanning. Instead, you get a preview of the URL in full, the contact's name or the Wi-Fi network, among other categories, and have to tap to proceed. We'll likely see abuse of this, but because it requires a physical interaction, it's unlikely to turn into a viral problem.
Previous Page 1 2 3 4 Next Page