Why QR codes are important to iOS 11 and China
A sleeper feature, QR codes have heavy use in parts of the world. Could they spread with automatic recognition in the Camera app?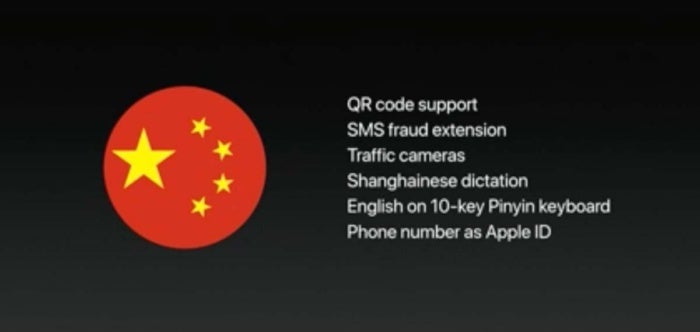 QR codes are among the several features aimed at the market in China. Credit: Apple
NFC touch-based payment systems like Apple Pay and Android Pay would seem to largely bypass the need for 2D codes at checkout, providing a similar analog-to-digital glue made through physical proximity. So it's possible we'll never see that kind of use emerge at scale in the U.S., although NFC payment remains available at only a subset of all retail locations nationwide. 2D code payment can happen through a software upgrade to any point-of-sale system with a screen, while NFC requires new hardware.
Apple's integration would conceivably allow URL schemas tied to payment apps, thus allowing a Camera-based scan to ask if you want to open a URL in a given app, providing a simple workflow.
Frictionless physical data
I've been expecting a QR code usage breakthrough for many years, because it felt like the utility they provided were enough of an advantage that Apple or Google would feel compelled to roll out it. They resisted, possibly because it seemed like a passing fad that AirDrop, NFC, and other technology would make it pointless.
But the world of atoms is surprisingly persistent and effective. Despite my interest, I've referred folks to the Pictures of People Scanning QR-codes Tumblr because it's a good laugh. But now, I think it's likely that it could start filling up with photos.
Previous Page 1 2 3 4