Why the Apple TV won't revolutionize gaming
Games are just a small, but potentially very meaningful part of the new set-top box's overall appeal.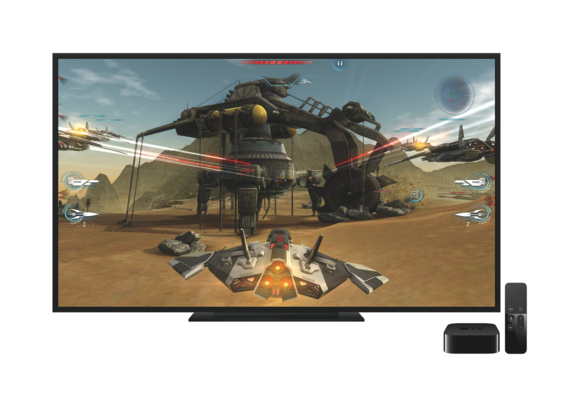 Credit: Apple
By the time Apple began its event on Wednesday, we already knew most of the basics: leaks had soured the surprise of the iPhone 6s and 6s Plus, the iPad Pro, and certainly the long-awaited Apple TV refresh. However, one pre-show rumor didn't come true, which left some people disappointed: The new set-top box isn't a gaming powerhouse.
It plays games, certainly. The addition of the App Store means that the new Apple TV is designed to run big-screen games, with Apple demoing a multiplayer version of Crossy Road, a new Rayman, and a rhythmic, family-oriented sports game from Rock Band maker Harmonix. And with the touchpad remote, iOS devices, gamepads, and other peripherals all supported, there's some versatility to what developers can do with it.
But the idea that the Apple TV could challenge the Xbox One or PlayStation 4 in any serious way seemed off-base, and Apple's brief presentation didn't inspire belief that gaming will be a tentpole focus for the device. Does that make it a "major bust," as gaming site Kotaku said? Well, no: there's still plenty of upside to the Apple TV's gaming capabilities, even if rumors undercut the impact.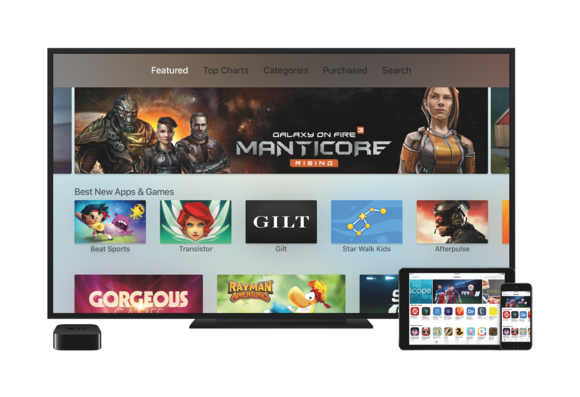 One purchase or download can get you the same game across devices, plus cloud saves let you carry over progress between versions. Credit: Apple
What it is (and isn't)
The Apple TV is not a $350–$400 console packed with high-end gaming guts; it's a tiny, $150 box with an iPhone 6 processor in it. And it's not designed to run the kinds of $60 games that are built by hundreds of people and showcase the latest in graphics technology. In fact, many of the games you'll play probably started life on the iPhone, and most will be free-to-play offerings.
In truth, the new Apple TV is quite similar in capabilities to a few other boxes on the market. Amazon's Fire TV, for example, is all about media and games, while Android TV-powered boxes (like the Nexus Player) can likewise run apps, games, and more. Ouya is perhaps the most high-profile failure of the bunch, as it Kickstarted millions of dollars, built up a lot of hype, and then botched the landing.
We probably needn't worry about a messy launch with the Apple TV. There's an incredible selection of iPhone and iPad games on the App Store that can be tweaked and revised for tvOS, and both the company and platform are a known quantity by now. Also, Apple sold more than 25 million of the boxes when it was just a "hobby" for the company—imagine what might happen now that Apple thinks it's important.