Why the Apple TV won't revolutionize gaming
Games are just a small, but potentially very meaningful part of the new set-top box's overall appeal.
That said, the gaming capabilities of the Apple TV aren't strong or central enough to be a big selling point. Apple realizes that, which is why games got a few minutes in the middle of the TV demo. It's part of the overall appeal of the new box, but not the hook. But that's the same deal with the iPhone and iPad—you buy these devices for apps, communication, media, and more, and you also happen to gain access to a vast array of great games along the way.
In that sense, the Apple TV is the perfect complementary gaming device for an avid iPhone or iPad owner. The ability to buy or download a game on your touch device and also have it available on your TV (assuming the developer has made it Apple TV-compatible) is a wonderful perk, particularly with the ability to pick up a saved game on any device. And with iPhones and iPads used as secondary controllers for Apple TV, it makes the box that much more compelling.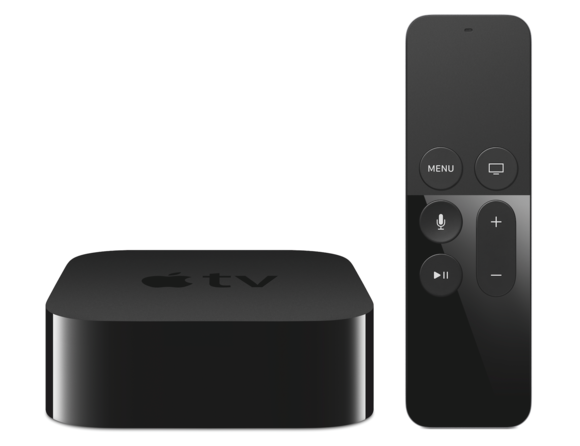 The top part of the Siri Remote is the touchpad, plus it has motion control capabilities built in, as well. Credit: Apple
Stumbling blocks
Granted, control is a possible point of contention with the Apple TV. The bundled Siri Remote is interesting—it's like the halfway point between a laptop trackpad and a Wii Remote, letting you tap and swipe for basic interactions, as well as tilt and move with the built-in motion controls. That means easily steering your sports car in Asphalt 8: Airborne, or maybe swinging the remote like a bat or golf club—and whichever other examples seemed new and interesting when the Wii hit in 2006. (Apple even has a Wii-like protective wristband available; it's a $13 add-on.)
But between the small touchpad and the lack of gaming-specific buttons, the Siri Remote isn't going to work well for all types of games. In some cases, your iPhone or iPad might be an able substitute, although developers will have to contend with the fact that a (likely small) number of Apple TV owners won't also have an iOS device.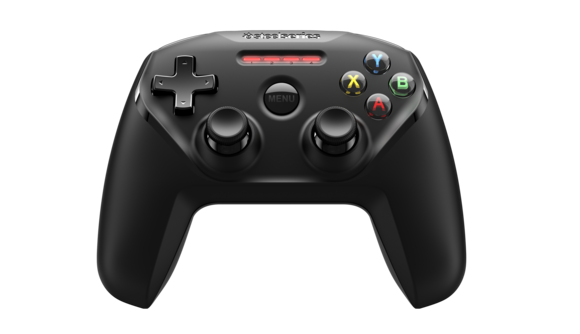 The SteelSeries Nimbus should launch alongside the Apple TV next month; with no Apple-made gamepad, it may be the only early option.
Because there's no traditional gamepad included with the box, advanced gaming will be limited to those who seek out additional peripherals. Apple isn't even making its own controller for the TV; that'll be left up to third-party makers through the MFi program. SteelSeries is first up with the Nimbus, which looks like a cheaper version of its Stratus XL iOS controller and also works with iPhones and iPads.
Previous Page 1 2 3 4 Next Page