Will hotel room keys and front-desk checkin soon be obsolete?
Starwood Hotels is eliminating pain points for guests by offering digital room keys, mobile check-in and functionality through an Apple Watch app. It's also allowing hotel managers to make pricing decisions based on a new analytics system.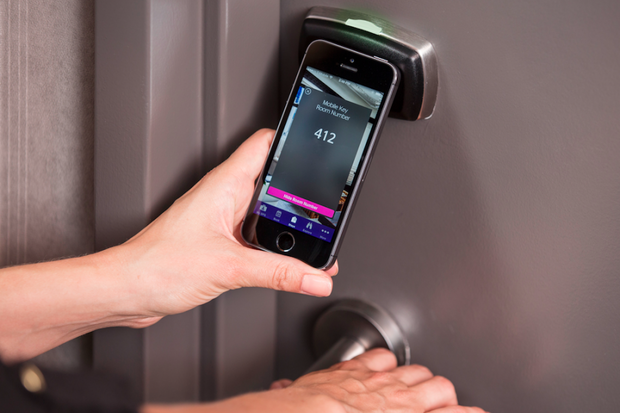 Credit: Starwood Hotels
After traveling all day, the last thing you want to do is wait in a long line to check into your hotel. And when you finally get to the front desk, it seems like the hotelier has to type a million keystrokes into the computer before finally handing you your room key.
Starwood Hotels, a hotel chain with over 1,200 properties worldwide, is eliminating this process and other points of frustration with mobile and wearable technologies.
"The vision around mobile is that it will be the remote control for our guests on property. Period," says Starwood CIO, Martha Poulter. "We now have more folks visiting our website through mobile. So we are at that tipping point and it's a trend we see around the world."
Starwood guests at three of its hotel brands Aloft, Element and W can now skip the front desk check-in entirely with Starwood Preferred Guest (SPG) Keyless. First, guests have to download the SPG mobile app, sign in to their accounts, register their phones and opt into Keyless when prompted through a push notification. Before an upcoming stay, guests confirm their information, such as dates, expected arrival times and credit card information. Upon arrival, they use the SPG app to check in, and if a room is ready, they receive a room number, mobile key and a notification that lets them know if they can go right straight to the room or if they need to stop by the front desk first.
"It's high-tech and high-touch," Poulter says. "We're giving guests the ability to bypass a key pain point."
Red light, green light
During the pilot program for Keyless, customers helped Starwood identify and fix a few hiccups. For example, at first, after scanning Keyless, the light on the hotel door handle turned the color amber, which was confusing to guests. They thought amber was too close to red; leading them to believe their mobile room key was denied. As a result, Starwood changed the light color to green.
Since being rolled out in November 2014, the Keyless program is available at more than 100 hotels and 190,000 guests have registered for it. But only guests who book directly through Starwood channels, such as its website and mobile app, can use Keyless. It isn't available to those who book through Hotels.com or other hotel websites.
Keyless also works via the Apple Watch. Poulter says the Apple Watch is a "skinny-down version of the mobile app," where guests can scan it to open their door and view upcoming reservations. The company is also exploring other features, such as enabling guests to buy drinks at the hotel bar through SPG on the Apple Watch.