Worlds Adrift preview: Surgeon Sim's dev gets serious in floating island survival game
This is what it's like when worlds don't collide.
And yet what makes Worlds Adrift so interesting (at least to me) is that it's also identifiably a Bossa game. The core tenets are here: Deep, systems-based mechanics. A devotion to emergent gameplay and enabling player creativity. Moment-to-moment silliness.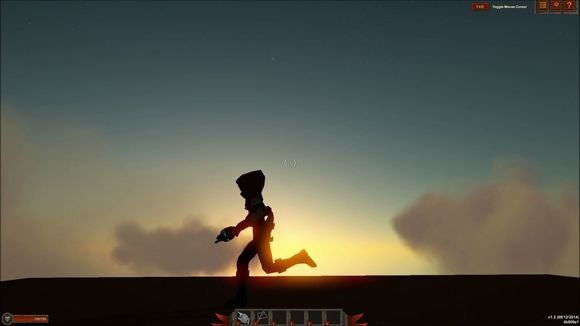 It's the spirit of Surgeon Simulator or I Am Bread, but couched in a more serious framework. Spending an hour with Bossa means hearing one crazy story after another, like when they discovered you could grab arrows out of the air. Or when they discovered you could hook your grappling hook to a cannonball as it's fired, yanking you into the air for an impromptu ride. Or how you can spin the mouse as you swing off your grappling hook, causing your physics-governed ragdoll to do the sorts of twirls and flips that were preprogrammed into Spider-Man games.
Another example Bossa's fond of involves a ship-to-ship battle where one craft dumped a heavy object onto the other's deck, overloading the tinier ship's engines and slowly forcing it to ground.
I'm attracted to this sort of chaos, to Bossa's mantra of "Give players all the systems up front and let them test the constraints." That sort of approach is diametrically opposed to telling any sort of coherent (read: linear) story, but it's fantastic if your goal is to empower players.It's what made Surgeon Simulator special. It's what made I Am Bread an excellent idea, even if the game didn't quite work.
And it's what makes Worlds Adrift worth keeping an eye on, even in a crowded me-too genre.