Yamaha unveils MusicCast, a high-fidelity multi-room audio system that will have 20-plus components by year's end
Will support for high-definition audio streams be enough to break Sonos' iron grip on this market?
As with a Sonos system, you'll be able to play different music in each room, or link rooms together so they're playing the same music (with the DSD exception I mentioned earlier). Being able to keep multiple rooms playing the same music tightly synchronized is an area in which Sonos excels, so it will be interesting to see how Yamaha fares on this count.
The app will also be able to access music stored on devices that are connected to MusicCast products. Yamaha mentions turntables, CD players, and game consoles, so I presume this means the music from those sources can stream over the MusicCast network, but I don't think the app will be able to control those sources barring something really clever (such as support for CEC over HDMI).
MusicCast hardware
Yamaha plans to introduce a MusicCast Sound Bar (the $500 YSP-1600) and a MusicCast TV Speaker Base (the $600 SRT-1500) in September. Both of those speakers will include Yamaha's excellent Digital Sound Projector technology, which delivers true surround sound using multiple speakers inside a single cabinet. It's been a while since I heard one of Yamaha's YSP speakers, but my last experience was marvelous. December see the introduction of the MusicCast Sound Bar (the $1700 YSP-5600), which will support both Dolby Atmos and DTS:X technology. Each of the sound bars will be outfitted with HDMI 2.2 to support 4K TVs and sources.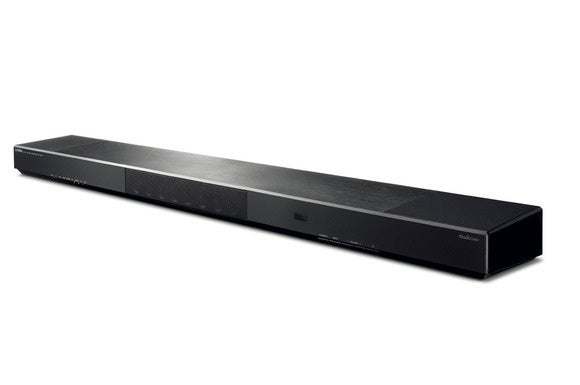 Yamaha
The Yamaha YSP-1600 sound projector will support MusicCast for music as well as Dolby Atmos and DTS:X for home theater.
If all that's too rich for your blood, Yamaha will ship the stand-alone MusicCast Wireless Speaker, $250 each, in October. This will be a two-way design (woofer and tweeter), with a large passive radiator to increase bass response. It can be set on a tabletop or hung on the wall using the thread mount in the back of the cabinet (provide your own brackets). If you find those speakers too low-fi, Yamaha will ship its NX-N500 powered monitor speakers in December ($800 per pair), or you can pick up the $650 R-N602 dedicated MusicCast receiver in October and provide your own speakers.
If you already own one of Yamaha's recently launched RX-V 79 or Aventage RX-A 50 Series AV receivers, you can install a new firmware update today that will add MusicCast support. And finally, for those who crave separate components, Yamaha will ship its $3000 Aventage CX-A5100 preamp/processor in September. This companion to Yamaha's monstrous MX-A5000 11-channel amplifier (also priced at $3000) will add Dolby Atmos and DTS:X support, HDCP 2.2, and balanced subwoofer outputs to that receiver's bag of tricks.