5 strategic moves that show Apple is more CIO-friendly
Apple can no longer ignore cries of help from its enterprise customers. Call them marriages of necessity, but Apple is striking corporate deals that make it more friendly to CIOs. We look at five of those partnerships.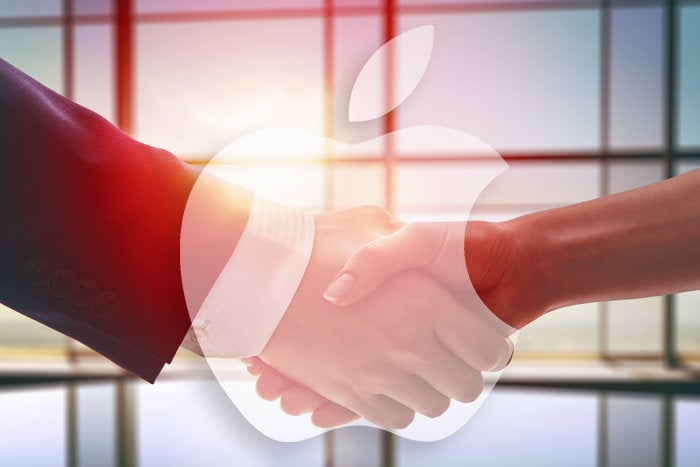 The late Apple CEO Steve Jobs Apple was notorious for taking a hard line against enterprises, which he suggested were bureaucracies who (do we say who in reference to a business?) struggled to make decisions. The reticence to play nice with enterprises didn't endear Apple to CIOs, who need to manage fleets of iPhones and iPads. "Apple has never, at least until recently, embraced corporations and embraced the enterprise," Stuart Appley, former CIO of Shorenstein, told CIO.com in 2015. "They're a consumer-first company."
That began to change in 2011 under new CEO Tim Cook, who has been praised for his willingness to work with corporations. Ironically, Apple's success with consumers in the mobile device market make their manageability in the enterprise so vital today, as the iPhone and iPad almost single-handedly spurred consumerization. Employees have forced companies to initiate bring-your-own-device (BYOD) policies.
With these consumers/employees holding onto phones and tablets for several years rather than refreshing them every time a new device launches, Apple is "feeling the heat on sales" and must cut deals with vendors to improve its penetration with corporate customers, says Jack Gold, founder of J. Gold Associates research firm. "Apple didn't drive it, they were pulled along and faced bigger pressure to do the deals," Gold says.
Gold says software makers and solution providers struggling with BYOD have increased the pressure on Apple to make their software run better on iOS devices. Apple, in turn, can no longer afford to remain aloof to the overtures from enterprise vendors. Call it a marriage of necessity. "It's being forced on them by enterprises who require security and manageability," Gold says. CIO.com highlights the corporate deals that are making Apple more friendly to CIOs who required simplified management solutions.
IBM
Apple-IBM
In a landmark mobility deal, Apple in 2014 agreed to work with IBM cloud and analytics software ran on iPhones and iPads. While some initially derided this as a vaporware deal designed to grab headlines, the companies proved pundits wrong over the next 18 months, releasing 100 iOS apps for industries such as financial services, energy and retail. Gold says the deal epitomizes how "democratization," or consumerization has forced enterprises to do what their customers wanted for a change.
Cisco
Apple-Cisco
Underscoring how Apple's enterprise deals had begun to pay off, CEO Cook said during an October 2015 earnings call that the enterprise market was generating $25 billion in revenue for the company, up 40 percent over the same period last year. Emboldened by this success, Apple accelerated its corporate deal-making, inking agreements with Box, ServiceMax and DocuSign. In December 2015, Cook joined Cisco Systems Executive Chairman John Chambers on stage at a Cisco conference to announce that the two companies would partner to enable enterprises to give their most important iOS apps priority.