ISS says Microsoft's Nadella is paid too much
Institutional investment advisor blasts Microsoft CEO's US$91 million pay package for 2014, recommends that shareholders vote 'No' next month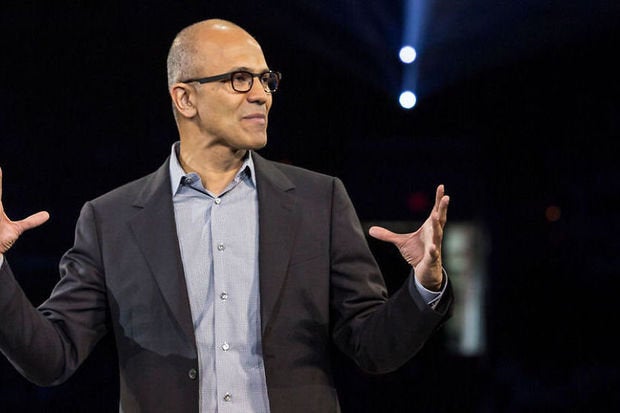 The IoT opportunity is THIS big. Credit: Microsoft
A prominent advisor to big-time investors has urged clients to vote against Microsoft's pay package for its new CEO, Satya Nadella, saying that his compensation this year was out of whack when compared to competing companies and the firm's track record.
Institutional Shareholder Services (ISS), which advises institutional shareholders, recommended that they cast a "No" vote at Microsoft's shareholder meeting two weeks from today.
ISS blasted Microsoft's entire approach to Nadella's compensation, calling his February stock grant a "mega equity award," arguing that his annual incentive stock plan "lacks a strong connection to objectively measured company performance," and noting that millions will be handed to him simply because he's there.
"The departure of former CEO Ballmer presented a number of challenges, including executive retention concerns and the need to design a compensation structure for new CEO Nadella, who, unlike his predecessors, was not a major stakeholder," ISS wrote in its report to clients. "[But] even in consideration of these challenges, significant concerns are raised by Nadella's new compensation package."
For Microsoft's fiscal 2014, which ended June 30, Nadella received nearly $919,000 in salary, $3.6 million as a cash bonus, and approximately $65 million as an equity starter kit, according to earlier filings with the U.S. Securities and Exchange Commission (SEC).
Last year, Nadella was given a stock grant worth an estimated $13.5 million as part of a retention plan Microsoft used to keep several executives in place as its board searched for a new CEO when Ballmer announced his retirement. And in September, Nadella received another $13.6 million as his annual stock-based award.
All of Nadella's equity grants vest over multiple years, and in some cases will be tied to Microsoft's market performance.
Microsoft has defended Nadella's compensation, most recently in the proxy statement filed last month. "To focus Mr. Nadella on improving returns for shareholders over the long term, while at the same time providing him the opportunity to build significant ownership and share in those returns when he achieves strong, sustainable performance, the independent members of our Board granted him the LTPSA," the proxy said of the large initial award given to Nadella earlier this year.
ISS still didn't care for Nadella's compensation and criticized the deal's lax criteria, which would give the CEO 25% of the targeted amount even if Microsoft's "total shareholder return" (TSR) was in the bottom 30% of the S&P 500.
Nor did the advisory firm like how Microsoft's board decided how much to give Nadella, as well as other top executives, in yearly cash bonuses and incentive awards, claiming neither was metrics based, but "ultimately determined at the committee's discretion."