What the robot apocalypse will mean for IT, jobs and work
Robots are coming, and they will eventually take many of our jobs. Before you break out the torches and pitchforks, though, think about how your skills (and, for that matter, your children's skills) can be applied to work that machines will never be able to do.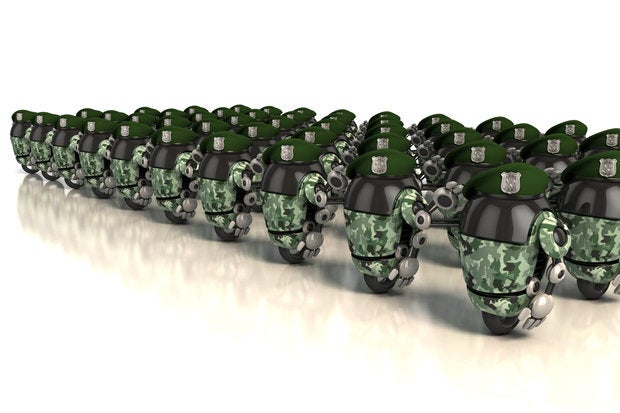 Google's huge entry into robotics leaves little doubt that we'll shortly be up to our armpits in robot alternatives to people. Robots will enter all aspects of our business and personal lives. Machines, vehicles, drones, cameras, sensors, you name it.
We've long known that privacy is a thing of the past. Could our job prospects go the same way after the robot apocalypse and how the heck should IT prepare for all of this?
The Robopocalypse Will Be Painful
There's a book called Robopocalypse and a movie under development. The general consensus is that the jobs that most affected will be menial, low-paying ones but this may not be the low-hanging fruit at all.
I ran across a TekCarta piece by Andrew Sheehy responding to Mark Andreessen's Financial Times column on what jobs robots will eat. Andreessen paints a glowing future when people have better access to jobs and education and still drive creativity and innovation. More new jobs will be created than taken away, he says. Larry Page has similar thoughts: Folks will work less and have far more time to spend on wonderful things because they'll share jobs. (He glosses over the part where they'll also make far less money, likely falling under the threshold where their employers pay for medical coverage.)
I agree with Sheehy. Andreessen's view that everything will be OK overlooks the massive pain of what will likely be an Industrial Revolution at hyper speed. Not even "creativity and innovation" jobs are safe. You should think about where your job is going, and where your kids should focus their education, so you and they don't become prematurely obsolete.
A Real Person Wrote This Headline (This Time)
It's time for a discussion about what the future will bring. It won't be world of lollipops and rainbows that Andreessen and Page will live in. The world of the rich won't apply to the rest of us. Interestingly, Google Chairman Eric Schmidt better anticipates the "jobs and robots" problem, but his solution is investing in startups, which is where we'll all work while the robots do our existing jobs.
Sure, robots already do some jobs: Assembly lines, self-driving cars, delivery drones and cleaning robots, both the consumer Roomba and larger, industrial vacuums. There's a bigger threat: Workers who basically look at numbers and draw conclusions. Robots are surprisingly good at this, too. Robots could do a range of jobs including analysis, purchasing, consulting and journalism because they can look at more real-time information in less time and with better recommendations than people.