Why bimodal IT kills your culture and adds complexity
Bimodal IT is gaining acceptance at some multi-billion-dollar corporations but Forrester Research says it's the wrong approach at a time when customer preferences for digital technologies are forcing companies to move faster.
"To be a digital company, you have to master both simultaneously to make it all work together," Ruh says. "We found it was the only way to bring together all of the digital capability under one [group] is the only way you begin to get to the point where you have two separate groups architecting their future."
Creative Solutions in Healthcare focuses on innovation by operating its entire infrastructure in the cloud (unheard of in healthcare) and experimenting with Internet of Things and drones, says Shawn Wiora, CIO of the $500 million nursing care facilities provider. He says the company aims to be as innovative as anyone in the marketplace because competition won't allow it to rest on its laurels. And the approach helps him win IT talent "We don't stay in the bimodal atmosphere," Wiora says. "We've got to be at the leading edge to stay competitive."
McCarthy says that CIOs need a business technology strategy that holistically makes the changes required to drive simplicity. That strategy must be driven from the top, with the CEO and the board of directors continuously learning about new digital experiences and ensuring that IT and business teams pull in the same direction. This strategy pairs design thinking (i.e., what is the customer experience like?) with agile development methodologies, implements more modern application and cloud architectures and leverages software with analytics and sensors to collect customer insights.
"At some point you have to start to change the culture of IT, whether it's the creation of a digital group or an ecommerce group," McCarthy says. "But the question is how long do you want to keep these things going separately and that's what we're really challenging. There's more than just creating a fast IT group. There's a fundamental transformation going on that supports the fundamental transformation of the business."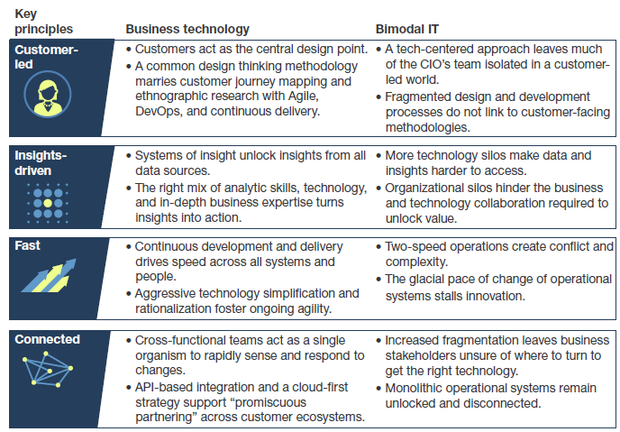 The key principles of IT -- and why bimodal practices don't work. (Source: Forrester's report, "The False Promise of Bimodal IT") (Click for larger image.)