8 critical things to do immediately with a new PC
Quick, while it's still pure and unsullied! Set up antivirus, clear out bloatware, and perform other tasks to keep your PC humming well into the future.
Windows Defender in Windows 10.
Windows 10 ships with Windows Defender enabled by default. It's a solid, if not overly detailed security solution that's dead-simple to use and probably good enough for most people.
Windows Defender isn't included in most prior versions of Windows, however—it's in Windows 8, but preinstalled antivirus program trials can disable it. Nor is it the most full-featured anti-malware solution out there. You can't even schedule scans! PCWorld's guide to building the ultimate free security suite can help you find all the right tools to keep your PC protected.
Clean out the crap
With your defenses up, it's time to start shoveling the crap out of your PC.
You can skip this step if you built your own Windows PC—including installation of the operating system—or bought a "Signature Edition" computer from a Microsoft store. Straight Windows installations don't come with excess junk cluttering up your hard drive. But boxed PCs from big-name PC makers are inevitably brimming with bloatware.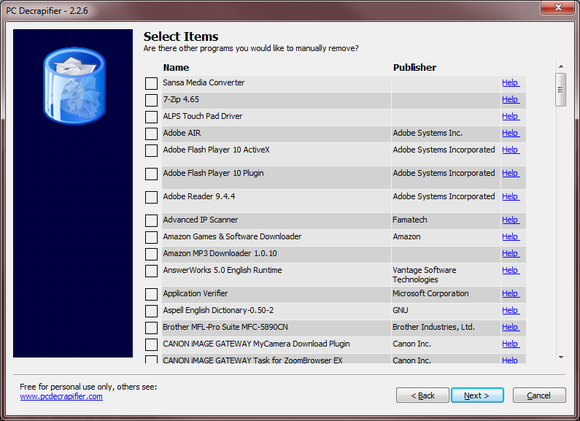 PC Decrapifier is lightweight, easy to use, and just plain rocks.
Fortunately, there's PC Decrapifier, a straightforwardly named tool that scans your PC for known bloatware, then allows you to wipe it all away in one fell swoop. It's far faster than hunting through the Control Panel, eradicating crapware piece by piece. Better yet, it's free.
Most people should stick to PC Decrapifier, but there's an even more thorough cleansing available only for people who feel comfortable reinstalling their entire operating system.
If you'd rather nuke everything from above Microsoft also offers a downloadable tool that installs a clean copy of the most recent version of Windows 10 Home or Windows 10 Pro but without any apps that aren't part of Microsoft's default Windows 10 setup. It seriously doesn't mess around, as Microsoft drives home in the tool's description: "Using this tool will remove all apps that don't come standard with Windows, including other Microsoft apps such as Office. It will also remove most pre-installed apps, including manufacturer apps, support apps, and drivers."
This tool will wipe out any product keys or digital licenses associated with that software too, so if you want to keep some of the software being blasted away (like Office, say), be sure to jot down the product key before using Microsoft's fresh start tool, using something like Belarc Advisor to find it.
Fill 'er up
Why'd we scrape all that junk out? To make room for your own stuff, silly. New hardware just begs for software to match!
Outfitting your rig is an intensely personal affair, but if you're looking for suggestions, PCWorld has a guide to free programs that are so helpful, so handy, so downright useful that they'd be welcome on pretty much any PC.
Previous Page 1 2 3 4 Next Page