Access shared Google Drive files through push alerts, thanks to newest update
You don't have to dig through your email any more to find sharing requests and collaboration invites with Drive for Android and iOS.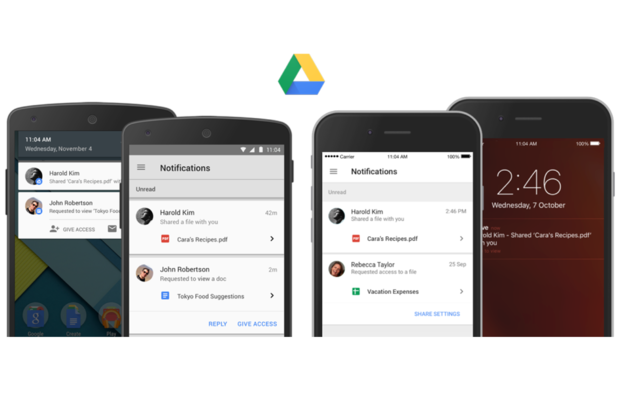 Credit: Google Drive Blog
The latest update to the Google Drive app is rather helpful if you work with a lot of shared files.
Google Drive for Android and iOS now sends out a push alert whenever someone shares a new document or folder with you. The notification will then take you directly into that file so you can get right to work.
Previously, the only method for such notifications was through your email, which of course can often be quite cumbersome to dig through.
The Android version has a couple of extra tricks: you can request access to a file directly from the notification if the sender hasn't added you yet. Also, you're able to view a shared file even if you're not signed in to a Google account.
The newest versions of Google Drive are making their way through the Google Play Store and App Store.
The impact on you: Google Drive still does one thing better than all the other productivity apps: collaboration. This update removes a major pain point since you can jump directly into a file and get to work on your mobile device without the need to wait for the invite to show up in your inbox. The other perk is that Google tends to keep good feature parity across iOS and Android, which is helpful if your workflow jumps across different platforms.