Amazon launches 6 major new devices, including a 4K Fire TV and a US$50 Fire tablet
Amazon took the wraps off no fewer than seven products yesterday: two new media streamers, four new tablets, and a new tablet operating system, Fire OS 5.
The Amazon Fire and Fire Kids Edition are available for pre-order now. Both tablets will begin shipping on September 30.
Amazon Fire HD 8 and Fire HD 10
If you're looking for a higher-resolution tablet, you might find the new Fire HD 8 (8-inch screen, $150) and Fire HD 10 (10.1-inch screen, $230) to be of interest. Both tablets deliver slightly higher resolution than the $50 Fire (1280x800 versus 1024x600). While those resolutions pale in comparison to Apple's 7.9-inch iPad mini 2 and iPad mini 4, both of which deliver 2048x1536 pixels, those tablets cost several times more (with prices starting at $269 and $399 respectively).
At Wednesday's briefing, Limp said Amazon wanted the new tablets to have a 16:10 aspect ratio to eliminate letterboxing. "These tablets are focused on one thing: Entertainment," Limp said.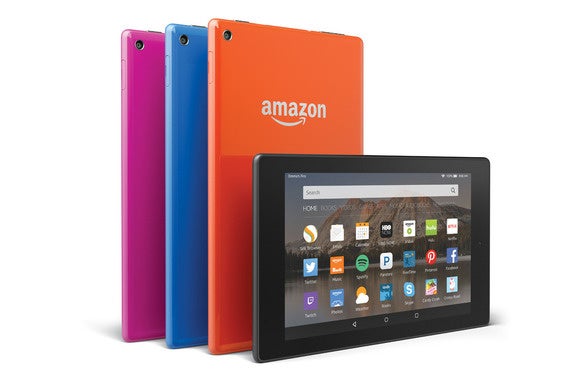 The Amazon Fire HD 8 will be available in your choice of four bright colors. Credit: Amazon
Both of the new Fire HD models will come equipped with 5-megapixel rear cameras and 720p front-facing cameras (for video conferencing), dual-band 802.11ac Wi-Fi adapters, and microSD card slots that enable you to add up to 128GB of additional storage. Both models are powered by 1.5GHz quad-core processors.
As with the new Fire TV devices, the new Fire HD tablets will gain some measure of integration with Amazon's Alex cloud-based voice-command service. You won't be able to put questions to Alexa via a tablet—you'll need an Echo or a Fire TV to do that—but Alexa's responses will trigger any nearby Fire tablet to wake up and display query results.
The new Fire HD tablets are available for pre-order now and will ship on September 30.
FireOS 5
Amazon's Senior Manager of Fire Tablets Aaron Bromberg says FireOS 5 I Amazon's "biggest redesign ever." The new operating system, present on all the Fire products announced today, will eventually be released for older Fire products as well. Bromberg says the new user interface is designed to mimic the layout of high-quality magazines with an eye toward making it easier for users to browse and discover new movies, songs, and books. Here are a few highlights:
The new home screen includes dedicated pages for books, games and apps, video, music, and more, along with personalized suggestions for new content. These recommendations will draw on Amazon services, of course, including Amazon Prime, Kindle Unlimited, and Audible.
Amazon is now making most of its entertainment content available for download and offline viewing/listening, which is a great feature—if you remember to take advantage of it before you head out on the road. A new FireOS feature called On Deck should make that feature even better: If you're a Prime subscriber, On Deck will automatically download Prime movies and TV shows to available storage on your tablet—including the space on a microSD card.
Previous Page 1 2 3 4 Next Page