Android virtual assistant showdown: Google Now vs. Cortana vs. Hound
We asked the top three digital helpers 100 questions to gauge how useful they are with everyday tasks and more complicated search queries.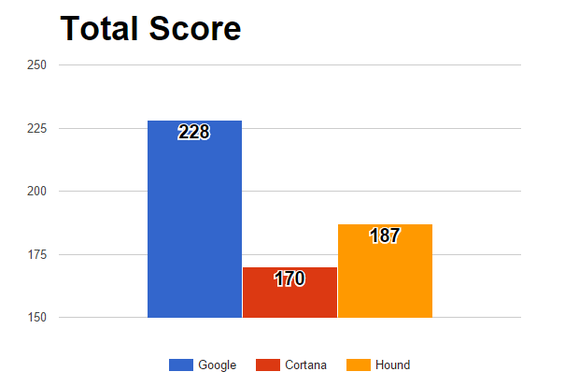 Google racked up the highest score by a wide margin, when all the points were totaled.
The key takeaway is that on a day-to-day basis, for most questions, the best performer is still Google Now. But I was quite impressed with Hound, especially its ability to handle multi-step, contextual questions. With Cortana, I liked the Google Now-style feed of news and information, and it also bested Google in a few spots.
For testing, I also took advantage of Android's ability to set a different default search app. This way when you hold down on a physical or virtual home button you can launch right into Google, Cortana, or Hound.
The big picture
Taking an average of the responses also showed a win for Google, as even when it didn't nail the question with a score of "3," it often at least pulled up some useful information to earn a "2."
This method of scoring hurt Cortana the most, as I found it to be the most unstable of the batch. I often had to repeat questions, or in a few cases, restart the app because it froze up.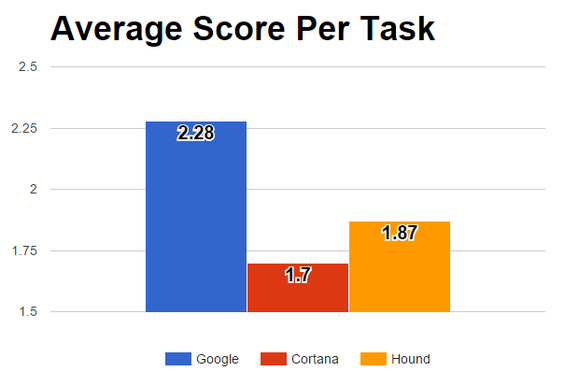 When you look at the average, it becomes clear that Google usually gives a good result, while Cortana strikes out often.
You can check out a Google Sheet that has all the questions and each answer's rating. Included are a few anecdotal notes. There's also a Google Photos gallery with a more extensive collection of screenshots.
If there's one question that illustrates the difference in the approach among the three services it's their response to, "What is the meaning of life?"

The voice search apps' response to this question show their different approaches. Click on image to enlarge.
Google gave a straight answer, with the dictionary definition of "life" and a link to Wikipedia. Cortana and Hound, however, were more playful. The latter two tend to infuse more personality with their answers and respond better to natural questions. Cortana even starts off by asking your name and will say it back with some responses.
Google is the king of knowledge
There's a reason that Google is synonymous with search. Even when it didn't land a 3 on my scale, Google typically offered information that was useful. No doubt Google's recent innovations in voice search capabilities played a role here.
And the company's combination of its search capabilities with Google Now means that you get some cool tricks. Search for a specific sports score, for example, and you will get a Google Now card that updates you about that game. Look up a flight, and the app creates a persistent reminder about it in Google Now.
Previous Page 1 2 3 4 5 Next Page