Android virtual assistant showdown: Google Now vs. Cortana vs. Hound
We asked the top three digital helpers 100 questions to gauge how useful they are with everyday tasks and more complicated search queries.

Google is still tops at search, but it can stumble with certain questions. Click on image to enlarge.
Where Google occasionally stumbles is in relation to questions of a more conversational in nature. For example, "show me yoga videos" only brought up a page full of ads, whereas I would expect Google to be able to take me to a full selection of instructors contorting themselves in painful ways.
Google is at its best when delivering a straight answer. What the Google Answer Robot lacks in personality she makes up for with a vast array of Internet-mined information, delivering the right answers to questions about the Winter Solstice, age of Quentin Tarantino, and the status of a flight.
Though Google will also be playful at times; you can ask it to flip a coin or roll a die. The app also handled one of the contextual question sets well, providing directions to the Space Needle after I had already queried its whereabouts.
Hound is a more personable, conversational assistant
Hound's claim to fame is how well it understands human language. It was the only app of the three to correctly understand the question, "Show me hotels in San Francisco for this weekend less than $400."
Hound was also great at follow-up queries, like finding out if a place was open after locating it in an initial search. It's also easy to launch another search by saying, "OK, Hound."

Hound will find you a game, deliver the weather, and respond well to casual conversation. Click on image to enlarge.
Hound also handled currency conversions like a pro. I could ask for dollars to pounds, then follow it up with "how about in Euros?" without the need to restate the amount. It did this well in the scenarios thrown at it from among the test questions, but also was helpful in everyday situations that required me to find out how late some place was open or to ask for directions.
Hound also offers a little more fun, with the ability to play a game of Hangman using nothing but your voice. There's also a clever "hints" tab on a lot of searches. Hound wants you to get used to talking to it like a normal human, as the app is designed to be more interactive and conversational than Google.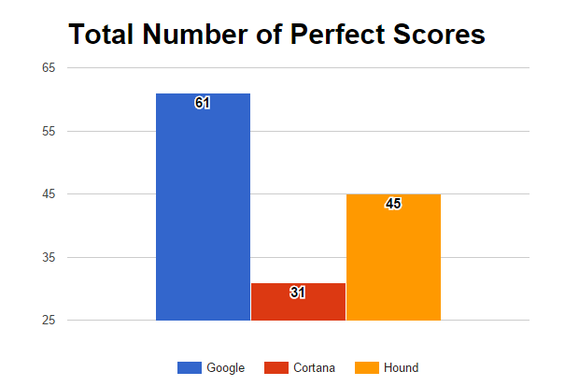 Google scored the top number of perfect '3s.' But Hound also turned out a respectable number of ideal answers.
But not all was perfect. No matter how slowly or loudly I pronounced, "what movies are playing tonight?" all Hound would give me was listings for Plano, Texas. I then asked for local cinemas, and it said there were none (there are two less than ten miles from me). It was rather frustrating.
Previous Page 1 2 3 4 5 Next Page