Android Wear app now reminds you to let it run in the background
The Android Wear app that runs on your phone now prompts you to exempt it from Doze optimizations, so your watch stays connected.
Android's Doze mode that launched in Android Marshmallow can do wonders for your battery life.
But it's not ideal for everything. Android Wear, for example, relies on several background processes in order to update you with important alerts for travel, details from Google Now, and other timely information.
So with the latest update to the Android Wear app, you'll now see a prompt to keep Android Wear away from Doze optimizations.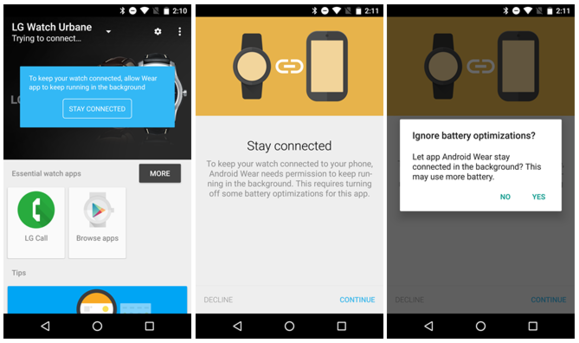 Android Police Android Wear will now prompt you to ignore Doze's battery optimizations.
While you'll use a little more battery, subjecting Wear to Doze would defeat the purpose of an always-connected smartwatch. If by chance your phone had started optimizing Wear for lighter battery use, you'll now be prompted to turn it off.
A couple of other items were tucked in, such as support for Casio's upcoming Smart Outdoor Watch WSD-F10 and a prompt to follow Android Wear on Twitter.
You can grab the latest update from APK Mirror or wait for the new version to roll out in the Google Play Store.
The impact on you: Next time you fire up the Android Wear app after the update pay attention to the pop-up notifications. This is some more user awareness that should have been in the app earlier, but it's important that doze mode not interfere with the connection to your watch.