Apple may have a 2-in-1 in the works
Some analysts see a need for Apple to further integrate a keyboard with the iPad.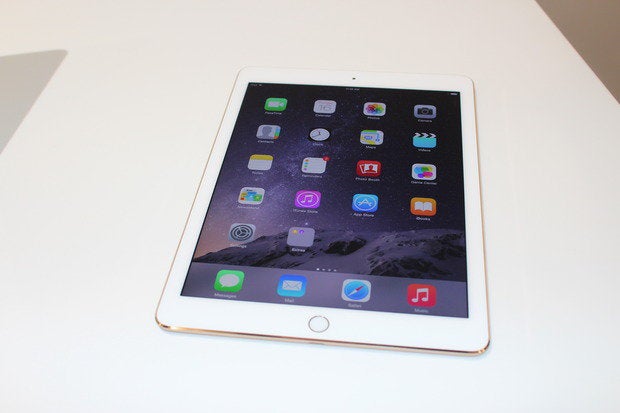 Could the iPad Air be ripe for an Apple 2-in-1 treatment? Credit: Susie Ochs
Is Apple planning some variation of a 2-in-1 device that would combine the iPad with a detachable keyboard?
It's not completely far-fetched.
If Apple did so, it would be keeping with a growing industry trend, analysts said. Apple wouldn't comment on this story, but that hasn't kept people from speculating.
Of course, the iPad already works with various Bluetooth keyboards, including Apple's own and those from some third-party manufacturers. There are also various covers that can double as a way to prop up the tablet.
But some analysts see a need for Apple to further integrate the keyboard with the iPad, perhaps even allowing the keyboard to attach to the iPad in some manner, magnetic or otherwise -- and probably not permanently. The setup would likely include other integrated features that could include a keyboard that doubles as a cover/case.
The Microsoft Surface 3, starting at $499, comes to mind, as a comparison.
Asked in an interview if Apple will have a 2-in-1 product for market anytime soon or even to announce at next week's Worldwide Developers Conference (WWDC), IDC analyst Jean Philippe Bouchard said emphatically, "We'll see it in 2015."
His colleague, IDC analyst Ryan Reith, added: "My personal belief, and not anything Apple has confirmed, is that Apple will launch a larger screen iPad in Q4 and they will offer an optional Apple Keyboard, like Microsoft does with Surface." The current size of the Apple iPad and the iPad Air is 9.7-inches, but rumors have suggested a 12-in. iPad is in the works.
Bouchard argued that a 2-in-1 is the natural evolution for all tablets, including Apple's, which have been seeing declining shipments globally.
"An important trend we're seeing is a lot of growth in the 2-in-1, the tablet with a keyboard," Bouchard said. "As you grow the tablet in size, the tablet becomes a productivity tool and requires a keyboard to become a true productivity tool."
That said, there was a dramatic downturn of tablet shipments in 2014 and so far this year, according to IDC.
"As tablets decrease in terms of shipments, the much more positive trend is about mobility and growth," Bouchard said. "Windows 10 will help that trend along with touch and finer touch with a pen and a keyboard in the Surface device," he said.
"The tablet is not dying, but going into transition," Bouchard said.
The growth in tablet shipments sunk dramatically in 2014, reaching about 4.4% growth over 2013 and totaling about 230 million tablets, IDC said in February. Still, that was far behind the growth of 2013, which was 52% vs. 2012.