Apple replaces Newsstand with Flipboard-style app called News
Newsstand's replacement, News, gathers user-selected and algorithmically picked news sources into a single app iOS 9 that repackages stories to display richly at any size.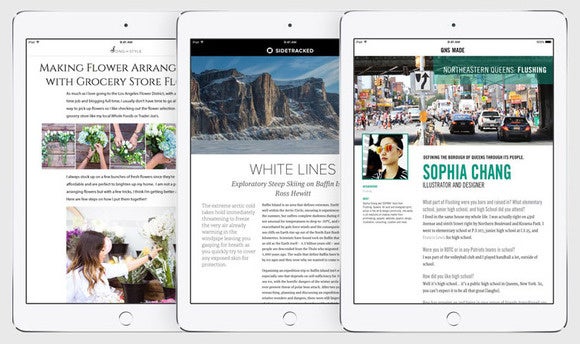 An app called News for iOS 9 replaces Newsstand as the place Apple wants mainstream periodicals-plus websites and every other kind of publisher-to place stories and articles, and Apple showed off a sneak peek during Monday's WWDC keynote. According to messages from developers who have installed iOS 9, the Newsstand quasi-folder turns into a regular folder, and Newsstand apps now have a standard, static iOS icon rather than a custom issue-cover one. These apps can be dragged to the home screen like any other, and the converted folder may be deleted.
Newsstand, first introduced in iOS 6 with unique features for publishers, including automatic background downloading and updatable cover images, has languished since iOS 7. With that release, Apple gave all developers access to some features and removed the preview on the Newsstand icon. (Side note: I actually edited and then owned a Newsstand publication from 2012 to 2014, so I know first hand how this service affects publishers.)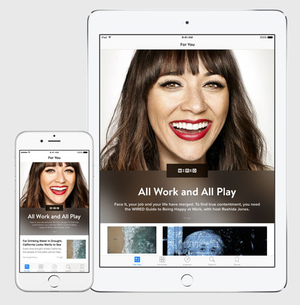 The News app automatically reformats content for every size of device and orientation.
Newsstand required custom app development for each publication or the adoption of a third-party iOS publishing platform, such as those offered by 29th Street Publishing,Richie, or TypeEngine. The News app does away with that, relying on interpreting existing websites' HTML as well as a new markup specification called Apple News Format that publications (and conceivably blog platforms) will be able to produce from their content-management systems. Apple's preliminary News app site provides scant detail so far about the format, but quite a bit of information about everything else.
Removing the necessity of unique or custom apps could spur more involvement by a broader base of publications and bring back some who previously opted out. The Financial Times is listed as a partner after having famously been an early rejecter, canceling its iOS app back in 2011 in favor of responsive web design that works in all browsers.
Apple's senior vice president of Software Engineering, Craig Federighi, said "Apple never shares what you're reading with third parties." However, that appears to mean a one-to-one connection: Apple notes on its News app site that publishers "get access to a rich suite of tools to measure user engagement with your content." That should mean aggregated information will be available rather than individuals' actions.
News closely resembles Flipboard, a long-running iOS app designed for a similar purpose: Taking a combination of existing content and sites selected by a user and combining it with algorithmic discovery of other articles of interest, while repackaging everything into a flowable format that works on a variety of devices.