Barnes and Noble Nook Wi-Fi (second generation)
The latest-generation Nook offers a dramatically improved design, interface, and reading experience on a monochrome E-Ink screen.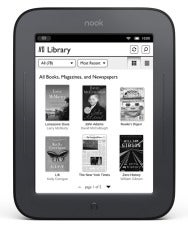 Similarly, I found it annoying that in the interface, I'd often have to move my hand all the way up to the top to find the X to close out of a page. Practically all other on-screen navigation is in the lower half of the screen, which made that finger travel feel inefficient.
Beyond that one interface annoyance, though, I was largely impressed by the B&N's otherwise clean, logical software design. B&N clearly gave some thought to the layout, and to how things operate. The interface is good, at times even great—but not perfect.
An example is how B&N has implemented its notes and highlights features. Really, these are the most usable examples of such features that I've seen on an e-reader to date. Tap and hold your finger on a word to select it; then you can either drag the pins to select a passage, or choose an action such as adding a note or looking up the word in the Merriam-Webster Collegiate Dictionary. Unfortunately, I had trouble grabbing quotation marks to complete a passage; also, right now you can't view all notes, highlights, or a combination of the two. Instead, you just see a teaser of the passage under a tab for Notes and Highlights in the table of contents. B&N says it expects to offer some way to view and share notes and highlights when it launches the My Nook portal, but that portal isn't ready yet.
For now, you can view and share highlighted quotes with Gmail contacts, via Facebook or Twitter. You can also share information about books you're reading, to make a recommendation, post your reading status, rate and review a book, or like it on Facebook. Nook has the same Nook Friends capabilities as on Nook Color; this social platform moves reading away from being a solitary exercise, but it does so in a less intrusive, less all-about-me way than on competitor Kobo's social platform. And it makes these functions far easier than on Amazon's Kindle.
Other features
The bookstore portal has also been redesigned, and its new interface, coupled with the touchscreen, does make shopping far simpler than before. The Nook has 2GB of built-in storage, and a microSDHC card slot hidden beneath a secure flap door on the side for additional storage. In addition to sideloading ePub and PDF files, Nook reads JPEG, GIF, PNG, and BMP image files. Unlike many other e-readers, Nook reflows the PDF text, which makes it great for reading text, but a mixed bag if you're trying to read a document that's heavy on its particular layout.
Previous Page 1 2 3 4 5 Next Page