BlackBerry Priv review: If you simply must have a physical keyboard
BlackBerry's first stab at an Android device is a pretty decent attempt. But will it be enough to save the company?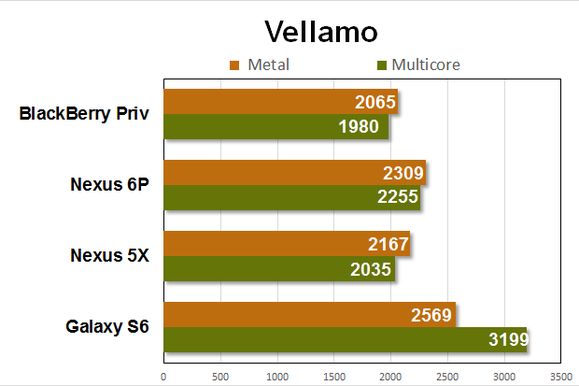 If you like processing speed, the Priv isn't leading the pack. Click on image to enlarge.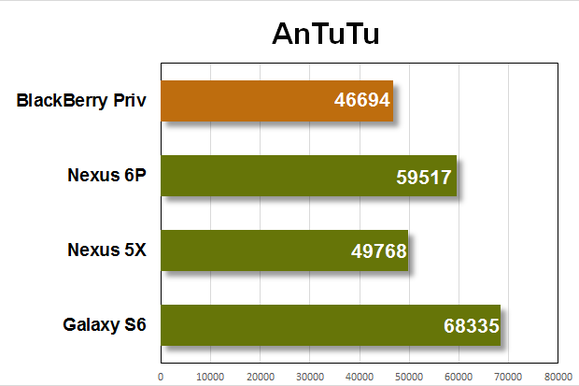 At least it performed on par with the Nexus 5X, which has the same processor. Click on image to enlarge.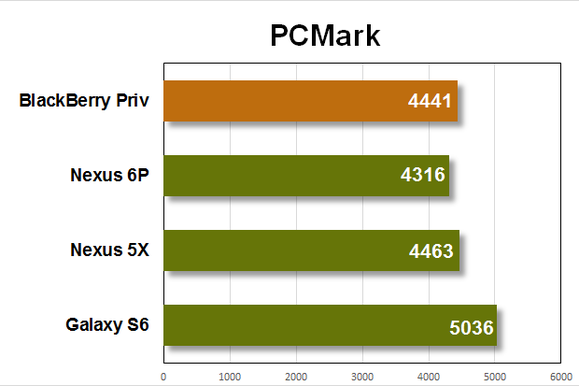 Naturally, the BlackBerry Priv performed well in a benchmark that measures everyday tasks. Click on image to enlarge.
The Priv is not a powerhouse. It takes a while to start up with every reboot, and it fared average in our benchmarks tests. It's a $700 phone that performs on par with the latest $400 phones. But are we surprised? BlackBerry has always been about productivity, and they're not changing their M.O. simply because they've switched to Android.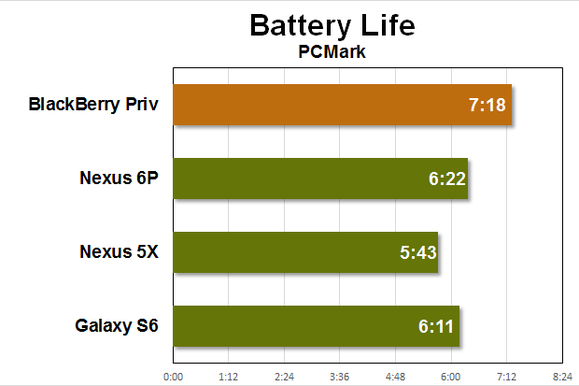 Whoa there, battery life.
Battery life on the BlackBerry Priv is phenomenal. In our PCMark battery tests, the Priv's 3410mAh battery pack lastest 7 hours and 16 minutes. That was on par with the Galaxy Note 5's 3,220mAh battery pack. Just don't let that battery run out before a long flight overseas: the BlackBerry Priv takes a long time to charge unless you have a Quick Charge 2.0-enabled power adapter, which the Priv does not come with.
An impressive camera
I was impressed with the Priv's 18-megapixel rear-facing camera. I thought surely that BlackBerry would have flubbed the camera part of its Android smartphone, but it actually equipped it with some very capable hardware.

If you have dying plants like I do, the Priv is good at taking close up shots of them.
The BlackBerry Priv's camera is jam-packed with features. It has Auto-Focus, Optical Image Stabilization (OIS), Phase Detect Auto Focus (PDAF)—which is typically featured in DSLRs and high-end smartphones—and fast focus lock.

The Priv's camera interface is nice and clean.
It's easy to shoot with and the interface is simple and clean. The video capabilities are also pretty powerful, and you can shoot in 4K up to 30fps. There's also a dual LED flash on the rear that helps brightened photos look balanced rather than overblown.

Dang, Priv. You sure can take a photo in low light.

Without HDR on, however, the Priv produces blurry photos in low light.
The Priv's low light abilities are exceptional. I almost didn't believe it myself. In some cases, it performed better than the Galaxy S6 Edge and Nexus 6P—both of which offer exceptional low light performance—though it's obvious that the Priv's end result is just a tad more blown out. But no matter: if you're in a bar and posting to Instagram, the BlackBerry Priv will do.
Previous Page 1 2 3 4 5 Next Page