BlackBerry Priv review: If you simply must have a physical keyboard
BlackBerry's first stab at an Android device is a pretty decent attempt. But will it be enough to save the company?
There are security features, too

DTEK is a BlackBerry introduced to help secure Android.
A BlackBerry phone wouldn't be complete without a few of its own custom security features. Since this phone is currently stuck on Android 5.1.1 Lollipop, BlackBerry tacked on an app called DTEK, which scans the security status of the device. It looks through your applications and factors in the developer options and trusted app sites you've allowed to assess how protected your device actually is. It doesn't make up for the lack of individual application permissions, which are available with Android 6.0 Marshmallow, but it is an app you'd expect from a company like BlackBerry.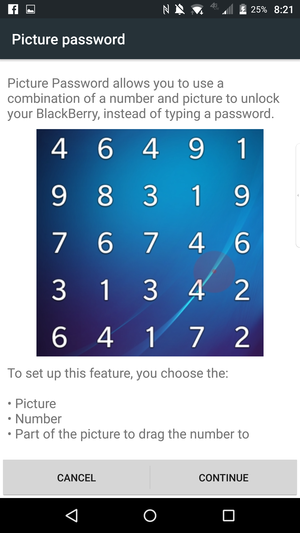 Picture password is kind of weird and I'm not into it, but you might be.
There's also a new Lock screen feature called Picture password, which allows you to use a combination of a number and picture to unlock the device, rather than simply typing the password. You choose the picture, number, and part of the picture to drag the number to. The idea is that no snoop would be able to crack this code, but I would have rather that BlackBerry include a fingerprint scanner instead of some new Lock screen mechanism.
Ready to give BlackBerry another try?

I can't believe I'm saying this, but this is a pretty good phone! Credit: Florence Ion
The BlackBerry Priv is a pretty outstanding attempt at an Android device, but that's not the problem. I'm more worried about the fact that BlackBerry's introductory Android device costs a little too much for a last-ditch effort. The Priv will be available from AT&T, presumably with a subsidy, but its $700 price tag is still a bit steep considering the price of Nexus devices and Motorola's smartphones these days. And I don't think BlackBerry offers something particularly extraordinary that'd make someone consider the Priv over the latest Samsung device. You can buy the phone directly from BlackBerry, but note that it doesn't work on Verizon or Sprint.
But if you did pre-order one, don't fret: the Priv is actually a pretty decent Android device, even if its slide-out keyboard does take a while to get used to. I'm shocked that BlackBerry managed to make a phone that could compete with the rest of them. Here's to hoping it sells enough units of the Priv to afford them a second generation device.
Previous Page 1 2 3 4 5