Boost your productivity with Android Wear time managers
Get motivated and finish those pesky tasks with these wrist-friendly apps that will give you a gentle nudge.
You can't swing a digital cat through the Play Store without hitting a to-do app. But too many of them are just that: simple list makers that are little more than a digital replacement to checking off a list with pen and paper.
Keeping track of what you need to get done isn't enough to solve the challenge of staying focused on your productivity in a world where digital noise has taken over. What I've always wanted is an app or system that does more with to-dos, provides motivation, and offers a method to gamify your way to task completion.
Ideally it should also work with Android Wear. The whole premise of a smartwatch is that you can get notifications, reminders, and check information quickly at a glance.
So what's best? I leave you here with what I think are three solid systems for boosting your productivity, with two other outside-the-box apps that really take this gamification idea seriously. Two are dedicated apps with good cross-platform support, and the final option is a look at how all of Google's tools work so well together. If you want to stop forgetting things and feel a little more control over life (well the productivity side of it, anyway), then check out these options.
Todoist is all about the Zen
If you want to go all-in with one app for boosting productivity, my top solution is Todoist. The app does what I was looking for in terms of thinking beyond just making lists. Todoist is actually designed to assist with time management, prioritization, and motivation through its Zen feature and newly revamped Android app.

Todoist analyzes your productivity and boosts your Karma score as you get things done.
The time management part comes from how the app makes it easy to sort your to-dos by assigning them to a date, which lets you glance at the week or month ahead. This also means you'll get pinged on your watch about impending events. The categorization capabilities also mean you can craft more of a system based on different projects or areas of your life, but at some point you'll run up against restrictions on what you can do with a free account.
The Wear app is more powerful if you enable voice access. Make Todoist the default voice action for "OK Google, take a note" in the Android Wear app.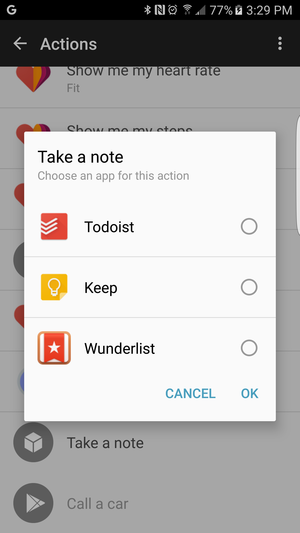 You can direct your watch which app to send a voice note into.
Todoist is free, but several advanced features require a $29 annual subscription. From my perspective, the filters and other add-ons are more suited for a team, and are less useful if you just want to ramp up your own productivity. Now that pretty much every service on the planet requires a subscription, you have to think twice about the value: ten years from now will you be glad you spent $290 on a productivity app?