Bottom line: Yes, you should upgrade to iOS 9
It's faster and more secure, it'll use less power, and it doesn't need as much space as iOS 8 did. Just get it!

Credit: Apple
"Should I upgrade to iOS 9?" is the question I hear the most around launches like this, even more than, "Should I buy a new iPhone?" People generally know if they want the new hardware, but whether or not to put a new OS on a device they already own seems like more of a gamble.
I'm here to tell you: iOS 9 is a pretty safe bet.
First of all, it runs on every device iOS 8 runs on, going all the way back to the iPhone 4s. (And when I find the iPhone 4s I bought back in 2011, and was in service as my husband's phone from 2012 through 2014, I'll thoroughly test it and let you know if iOS 9 is usable on the thing.) Since iOS 9 has been in beta, we've tested it on a few devices, including iPhone 5s, iPhone 6, the third-gen iPad, an iPad Air, an iPad Air 2, and an iPad mini 3. The beta versions have been extremely stable, and none of the hardware we've used it on became sluggish or felt hampered by the new OS.
Less space required
Last year, the upgrade to iOS 8 soured some iPhone users, who wanted to update over-the-air but didn't have enough free space. Well, that problem has been remedied—iOS 9 only needs 1.3GB of free space to install, compared to the whopping 4.58GB iOS 8 needed during an over-the-air installation. In fact, Apple even has a workaround called "automatic app deletions" that can temporarily trash your largest apps while keeping your user data intact, so when the update is done, the deleted apps will be automatically restored, with the correct data, just like you'd left it.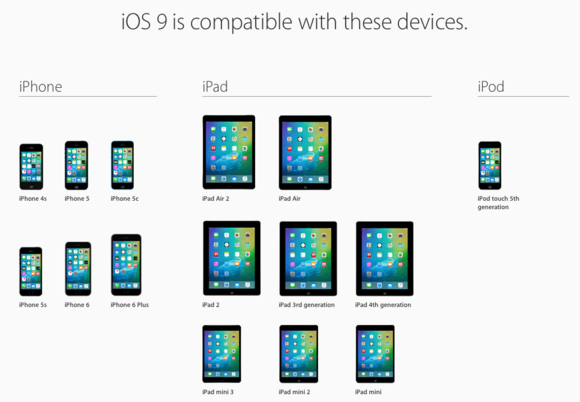 Got one of these? You could run iOS 9. Credit: Apple
Plus, there was a snafu with a bad 8.0.1 update that was immediately rolled back to 8.0 and quickly replaced with 8.0.2. At the end of the day, the 8.0.1 update problem didn't affect that many users since Apple pulled it so fast. But if you're nervous, that's understandable, and the solution is simple: just wait a couple of days to see how it shakes out.
New Metal and more power
What if you aren't interested in the new features like the revamped Spotlight screen, or the brand-new News app? What if you think the all the handy little changes in iOS 9 aren't enough to get excited about? Or your iPad is too old to use the new multitasking tricks? Apple made lots of improvements under the hood that should improve your experience even if you don't touch the new stuff.