Bottom line: Yes, you should upgrade to iOS 9
It's faster and more secure, it'll use less power, and it doesn't need as much space as iOS 8 did. Just get it!
All of Apple's own apps were rewritten with its Metal API, which takes better advantage of your iPhone's GPU for graphics and data processing. This should make your iPhone feel more responsive when performing the same old tasks.
Apple also made tweaks to affect battery life. Low Power Mode offers to kick in at 20 percent and again at 10 percent, and when you enable it, it can prolong your remaining battery life up to three hours. But you still get to use Wi-Fi, Bluetooth, location services, and all the other bells and whistles in iOS. Instead, iOS intelligently quits background processes like email fetch, dims the screen slightly and sets it to sleep much quicker, and reduces visual effects like parallax and app-opening animations.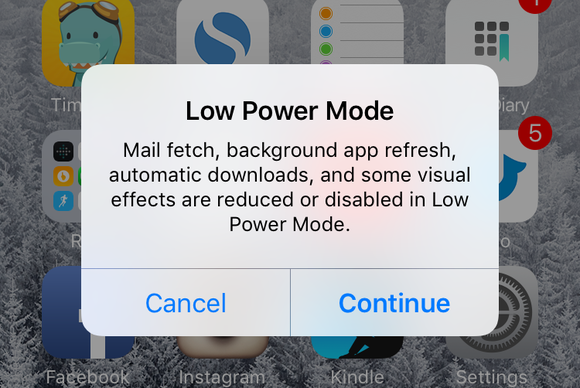 During the beta period, Low Power mode saved my bacon (and my ability to listen to music on the long commute home) so many times. Credit: Apple
I use Low Power Mode almost every day, and while the quick-sleeping screen can get kind of annoying, the benefit of having a functional iPhone is far worth that tradeoff. It does slow down the processing speed, which can be noticeable depending on what you're doing, but it hasn't bothered me (although to be fair I've been using it on an iPhone 6.) If you used to worry that upgrading your iOS would lead to worse battery life, iOS 9 should make that better too.
Bottom line
I still haven't mentioned security factors, like a longer default passcode (now six digits over four), streamlined two-factor authentication process, and the ability to block content in Safari will the help of third-party extensions. Apple puts a lot of emphasis on security, in part to differentiate itself from Google's MO of amassing tons of data on you for more targeted advertising. But the upshot is a safer phone, and Apple's ability to roll out security updates directly to the entire iOS 9 user base at once is another plus.
So the bottom line is, you should update to iOS 9. It doesn't have to be today, and it doesn't have to be tomorrow. (If you have concerns about a specific device, or the compatibility of a specific app you depend on, let us know in the comments and we'll do our best to address it.) But iOS 9 is a speedy, stable release with a lot of handy new additions, and we think it's a worthy upgrade.