Catalyst shows off a waterproof Apple Watch case at IFA
But is this even needed, since tests have shown the Apple Watch performing better than its waterproof rating even without a case?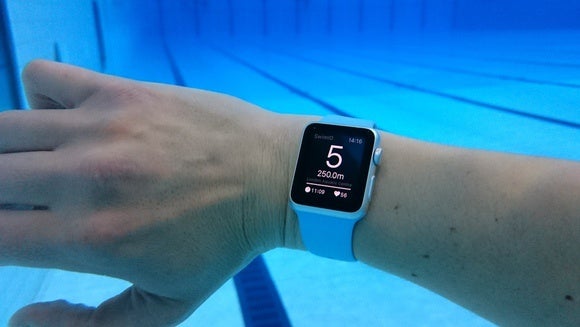 Active in Time found that while you can't interact with the touchscreen underwater, the Digital Touch can wake the display, and it's easy to read. Credit: Active in Time
Active in Time is actually working on a swimming app for Apple Watch, ported over from the more waterproof Pebble, but the developer admits that using it may void your warranty. The app won't be out until after watchOS 2 allows for apps to run natively on the watch hardware, although Apple would still have to approve it as well. Active in Time's blog post even fears Apple might not approve the app until the Apple Watch 2, assuming that one is even more water resistant than the first generation.
And maybe that's where Catalyst's case comes in. Hockenberry calls out the standard Workout app for not being easy to use in the water or even with wet hands, and wonders if Apple recommends against swimming not because the hardware isn't rugged enough but because the software interactions get so wonky. If a developer like Active in Time can write an app you can interact with using only the Digital Crown (which works just fine underwater), and Catalyst's $60 waterproof case helps swimmers breathe easier without worrying that water could creep in after enough laps in the pool, the Apple Watch could wind up being the best swimming tool since goggles.