CIOs upbeat on iPhone SE, 9.7-inch iPad Pro
Apple revealed a pair of new devices this week that look strikingly similar to products it released years ago. However, the smaller sizes, and corresponding lower price points, of the iPhone SE and 9.7-inch iPad Pro have kindled new interest among CIOs and other IT professionals.
The majority of modern enterprises have BYOD policies, and the iPhone SE gives users' another option for form and function that best suits their individual tastes, according Shawn Wiora, CIO at Creative Solutions in Healthcare, a company that owns and operates nursing facilities. Wiora manages the IT needs of more than 4,000 nurses and healthcare professionals, and he says many don't like the big-bigger-and-biggest trend in mobile. Wiora says the iPhone SE is a "blessing," because it just "feels better" in the hand.
"The analogy that we within IT use is that construction workers, carpenters and woodworkers all have options for the size, weight and comfort for their toolsets. Apple is bringing the Home Depot of tools to enterprise workers," he says. "At the end of the day, our enterprise users have these devices in their hands for four (or more) hours per day, performing all kinds of tasks. This SE size factor, additional storage and upgraded feature set will be warmly greeted by many."
The fact that Apple has added many of its most advanced features to more affordable devices decreases overall costs for CIOs, according to Wiora. "With a more common feature set, regardless of sizes, helpdesks can focus more easily on resolving issues and not having to understand all the nuances between models," he says. "Prior to this announcement, I had to let staff know that certain capabilities were only available on certain models. The feature set is now closer to a common feature set, and that's wonderful."
iPad Pro tailored specifically for enterprise
Though both new devices could fit well into many enterprise environments, the iPad Pro lineup is still more tailored to enterprise overall, thanks to features deliberately designed for productivity and business, according to Jan Dawson, chief analyst and founder of tech research firm Jackdaw.
The $599 price point also pits the 9.7-inch iPad Pro against mid-range PCs, and the tablet could replace laptops for workers who don't necessarily need to regularly write long documents or manipulate spreadsheets, according to Dawson. The smaller iPad Pro could hit the sweet spot for executives and managers who don't need to accomplish complex tasks on their PC, he says.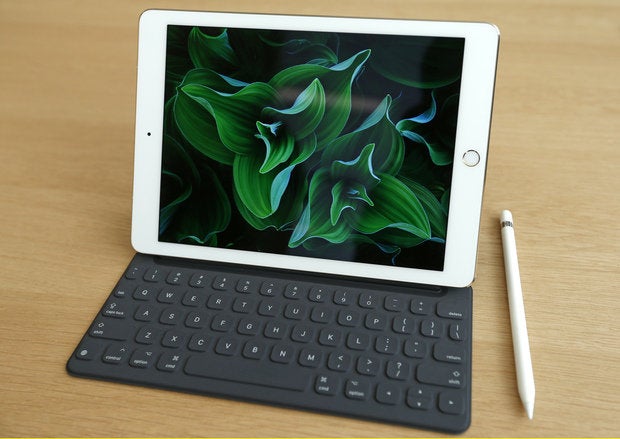 REUTERS/Stephen Lam. Apple's new 9.7-inch iPad Pro
"I think they did the 12.9-inch device deliberately just to say, 'This is new and different, this is not just an upgrade of an existing line,'" Dawson says. After establishing that new product in its lineup last summer, Apple can introduce the smaller iPad Pro at the familiar 9.7-inch size without customers thinking it's merely a refresh of the iPad Air, according to Dawson.