Dell Chromebook 13 review: Carbon fiber and extra-long battery life make it a class act
This is a Chromebook solid enough for business use.
The Dell Chromebook 13 introduces a new adjective to its ecosystem: classy. Specifically, it fulfills a longstanding need for a professional-grade machine that's portable, productive, and built with high-quality materials.
Up to now, no Chromebook had stepped up to meet those demands. The majority of 11-inch models have mediocre build quality, and that screen size is too small for all-day work. On the other end of the scale are the few 14- and 15-inch models, which can be too heavy. Google's Chromebook Pixel is amazing in all respects, but its price ($999 and up) simply lies beyond most budgets.
The Chromebook 13 nails all the business requirements with a starting price of just $429 MSRP (available through Dell), topping out at $649 for fancier configurations. It also boasts impressively long battery life, and everyone likes that.
Features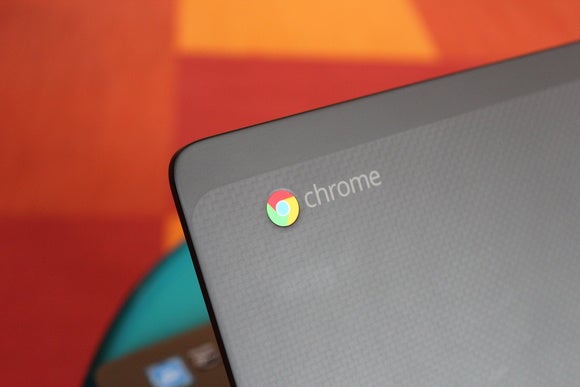 Carbon fiber makes the Dell Chromebook 13's lid tougher than a typical consumer model's. Credit: Melissa Riofrio
The Dell Chromebook's features set it apart from most other Chromebooks. Let's start with the case. Its lid is made of resilient carbon fiber, with a substantial rubber gasket running along the top. The body is a combination of magnesium alloy on the keyboard tray and aluminum underneath. I'm not saying you should drop this Chromebook, but if you did, this tough shell would hold up better than your run-of-the-mill consumer model's.
Our test unit, which is the base model, comes with a 16GB SSD. Other models offer 32GB of storage. The standard 13.3-inch Full HD display (1920x1080) has good image quality, though its anti-glare coating can make colors look a little dull. Step up in price to the Full HD touchscreen, which we didn't test, and you should expect a brighter (if more reflective) image, plus Corning Gorilla Glass for extra durability.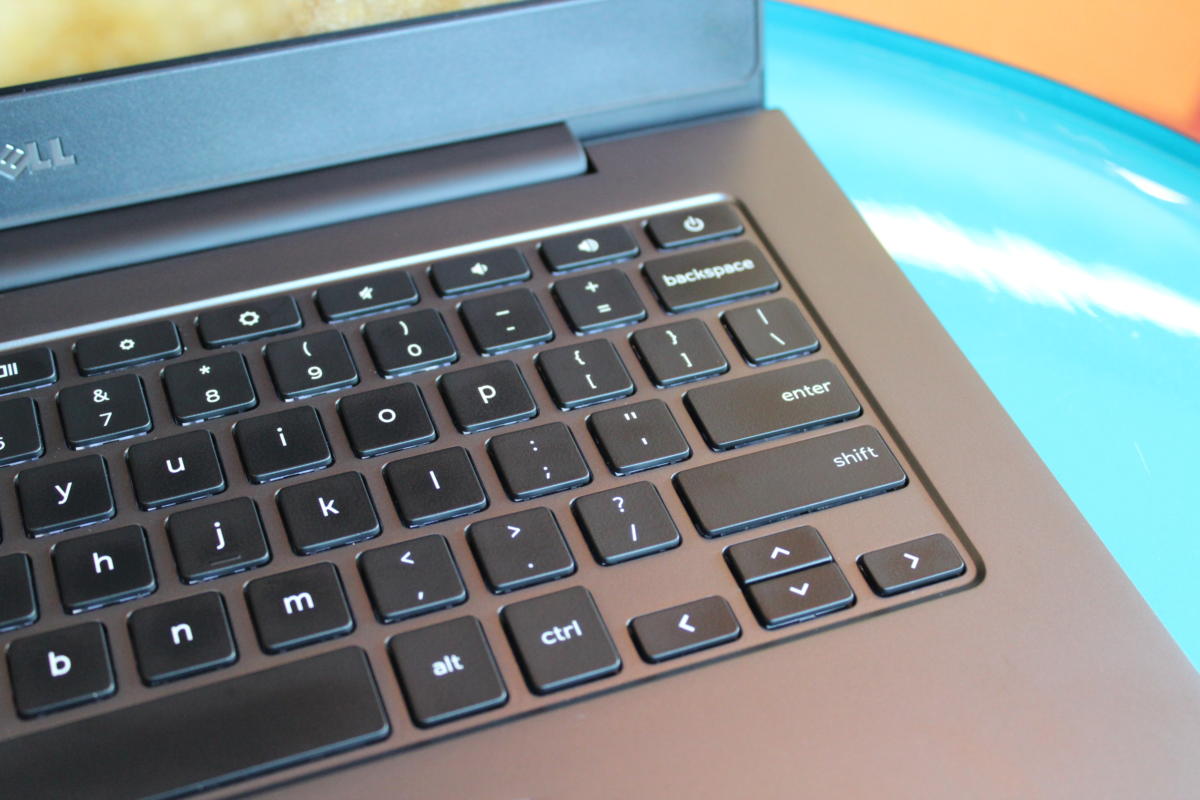 On the Dell Chromebook 13, the keyboard's cursor buttons and top-row function buttons are half-height, but chiclet spacing makes them pretty easy to press. Credit: Melissa Riofrio
The typical consumer Chromebook's input devices can be awful, with clackety, hard-plastic keys and twitchy touchpads. The Chromebook 13 improves upon the norm yet again with a chiclet-style, backlit keyboard that feels firm instead of harsh. The glass touchpad is large and responsive.
The audio/video array is typical and unremarkable. You get a 720p webcam, dual microphones, and dual two-watt speakers.
The unit is slender and easy to slip into a briefcase or tuck under your arm. It measures 12.93 x 9.03 x 0.66 inches at the back, tapering to 0.51 inches in front, not counting the rubber feet. The Chromebook 13 is also fairly light at 3.23 pounds. (The touchscreen-equipped model is a little heavier, at 3.56 pounds.)