Dell Chromebook 13 review: Carbon fiber and extra-long battery life make it a class act
This is a Chromebook solid enough for business use.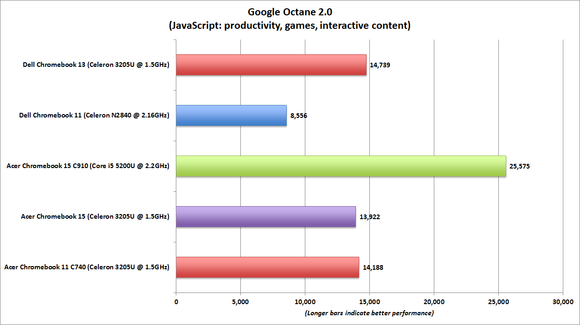 A similar scenario played out with Google's Octane 2.0 Javascript benchmark. It pushes hard on more advanced browser-based activities, including productivity applications, games, and interactive content. Acer's Chromebook 15 C910 finished way out in front, while the Dell Chromebook 13 led the rest of the pack.

Click on image to enlarge.
It happened yet again in JetStream, a JavaScript benchmark that measures web latency and throughput performance. As web applications become more sophisticated, a machine's ability to handle complex graphics and data processing will matter more. Again, Acer's Chromebook 15 C910 outran all, while Dell's Chromebook 13 stayed a nose ahead or better than the others.
The cr-XPRT performance test measures Chromebook performance in basic productivity tasks as well as more demanding activities, such as watching movies or playing games. The Dell ran neck-and-neck with the older Acer Chromebook 15, while the newer and higher-end Acer Chromebook 15 C910 skated away with the prize.
Battery life
The Chromebook 13 shone brightest in battery life, using cr-XPRT 2015's expected battery life projection. Here, the tables were turned: The Acer Chromebook 15 C910 posted the shortest life of just over 7 hours, due to its power-hungry Core i5 processor. Dell's Chromebook 13, with a less demanding processor and a large 6-cell, 67WHr battery, outpaced everyone by a wide margin: At 15 hours and change, it lasted 50% longer than the next-best Chromebook on this test.
Conclusion
The Dell Chromebook 13 is affordable quality in the Chromebook space. It's sturdily built, well-configured, and its performance is competent, while its battery life is outstanding. You wouldn't buy this for your kids, but for professionals and Chromebook aficionados, it's currently the strongest buy.
Previous Page 1 2 3