Discounts on last year's bigger iPhones give Apple weapon to continue strong sales
Majorities of iPhone owners in U.S. and China have yet to upgrade to larger screens.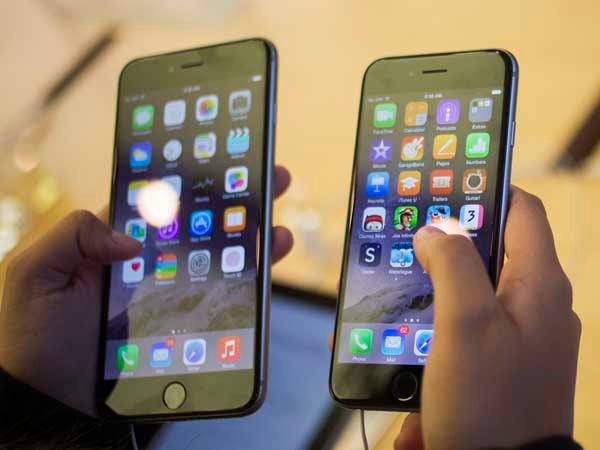 A customer holds an iPhone 6 (R) and iPhone 6 Plus after the phones went on sale Sept. 19. Credit: Image credit: REUTERS/Adrees Latif
Apple has no shortage of sales runway for its larger iPhones, an analyst argued Thursday, less than a week before the Cupertino, Calif. company will almost certainly unveil new models that look identical to last year's.
"Because of the strong demand for the iPhone 6 and 6 Plus, several industry and financial observers have painted a somewhat gloomy picture for Apple's opportunity in 2016," wrote Carolina Milanesi, chief of research and head of U.S. business for Kantar WorldPanel Comtech, in a post to her firm's blog. "Once we dig into the numbers, however, the future looks far less bleak."
The bears Milanesi referenced have expressed skepticism that Apple will match the sales of 2014's iPhone 6 and 6 Plus. The reasons have been all over the map, from the weakening Chinese economy to the belief that last year's move to larger screens was a one-shot growth opportunity that can't be sustained.
But Milanesi mined Kantar's data -- obtained through its ongoing consumer surveys -- for the U.S. and China, Apple's two most important markets, to underline a more bullish argument.
She based her assertions on the large number of iPhone owners who have yet to upgrade to a bigger screen and the expectation that Apple will, as it has in the past, drop the price of 2014's models to make room for the new.
In the U.S., for example, Kantar's polls show that 32% of iPhone owners have replaced their smartphones since last September, with 63% of those -- in other words, about 20% of the total -- swapping out their older model for a 6 or 6 Plus.
Meanwhile, in "urban China" -- a Kantar definition that encompasses the most likely iPhone buyers -- only 18% of iPhone owners replaced their smartphones in the last 12 months. Fifty-three percent of those who did substituted a new iPhone 6 or 6 Plus for their older devices.
That leaves significant chunks of the potential iPhone market -- primarily, although not exclusively composed of those who already own an Apple smartphone -- still using a smaller-screen device.
Almost as important is another statistic Milanesi touted: 31% of existing U.S. iPhone users and 32% of urban Chinese users acquired their current devices more than two years ago.
Those customers will be looking for a new iPhone in the near future -- the average hold-'em stretch for iPhone owners is 24 and 19 months in the U.S. and China, respectively -- and will be the target for Apple's newest iPhones marketing.