Everything you need to know about iPad mini 4, a thinner, lighter, multitasking machine
All of iOS 9's multitasking features will run on Apple's smaller tablet.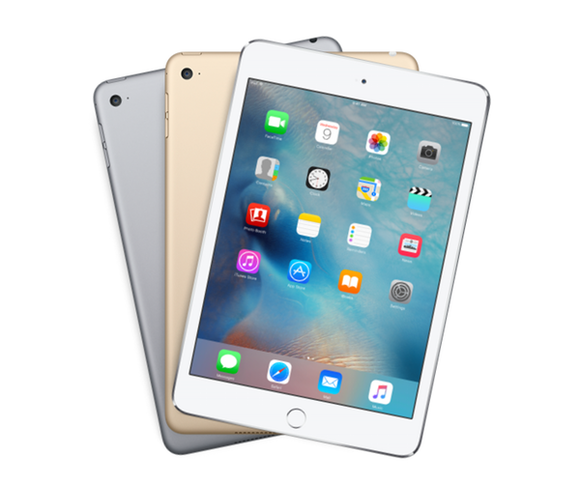 Apple devoted the lion's share of its Sept. 9 event to showing off the iPad Pro, so you'll be forgiven if you missed the minute devoted to a new version of the iPad mini. But don't sleep on the 4th-gen 7.9-inch tablet—it's a much more significant upgrade than the iPad mini 3, which Apple just quietly phased out.
The iPad mini 3 was released alongside the iPad Air 2 last fall, and while the second-gen Air was a worthwhile buy, the mini 3's only changes were Touch ID and a new gold option. Apple is clearly betting big on the iPad Pro, but if you're in the market for a smaller tablet, the iPad mini just got the upgrade it deserved.
Full-featured multitasking comes to the mini
We'll dive into the iPad mini 4's specs in a minute, but the biggest change by far is the 4th-gen tablet's ability to support all of iOS 9's multitasking features: Slide Over, Picture in Picture, and Split View, a tool that was exclusive to the iPad Air 2 prior to Wednesday's launch event. (The iPad Pro was the device Apple designed those multitasking features for, so of course it will support Split View).
Split View is arguably the most significant of iOS 9's multitasking features, and will allow mini 4 users to run two apps simultaneously side by side.
The reason the iPad mini 4 can support Split View is its upgraded A8 chip, a powerful version of the iPad Air 2's A8X processor. The mini 3, like the mini 2 before it, was still using the older, slower A7 chip. Apple boasts that the mini 4's A8 chip powers 60 percent faster graphics performance than the A7 for better gaming, video editing, and of course multitasking.
Apple also put its M8 motion coprocessor in the iPad mini 4, which is also useful for gaming and maps.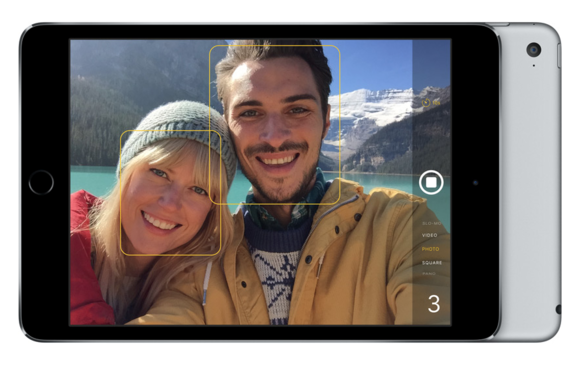 The iPad mini 4 has a new 8-megapixel iSight camera, just like the iPad Air 2. Credit: Apple
Thinner, lighter, huge camera upgrade
At 6.1mm, the iPad mini 4 is 18 percent thinner than its predecessor, the 7.5mm mini 3 (and mini 2, for that matter, which Apple still sells). It's also more than 30 grams lighter.
Think of the iPad mini 4 as a smaller iPad Air 2. The two tablets both feature completely laminated displays with anti-reflective coating, 8-megapixel rear-facing cameras (compared to the mini 3's 5-megapixel iSight camera), and 120 frames-per-second slo-mo video-shooting abilities.
I'm firmly against shooting photos with an iPad in public, but better to do it with an iPad mini than an iPad Air. The mini is also $100 less than an Air 2 for the entry-level 16GB Wi-Fi version, which is $399. (The Air 2 starts at $499.)