Five things Google can do to fix the Play Store
Google's digital storefront is lovely, but there are some areas the company could shore up for an even smoother experience.
It's been a little over four years since Google rebranded the Android Market as Google Play, bringing all of its apps and digital offerings under one roof.
The Play Store is a key piece of Google's digital strategy, as it's the hub for Android apps and games, eBooks, TV shows, and movies. In many ways it's quite good, with an appealing design and continual improvements to try to improve app discovery and boost the number of installs.
But like anything, there's always room to grow. The Play Store app and website could use a few tweaks to address some nagging issues. The five issues I've described below are my main grievances. If there's a problem you've noticed let us know about it in the comments, and we can at least commiserate with your pain.
Improve the mobile app's stability
I've used a number of different Android devices over the past few years. And one constant remains: the Play Store app crashes from time to time. I can't speak to the precise code or other engineering issues as to why that's happening, but as just a consumer I can say that it stinks.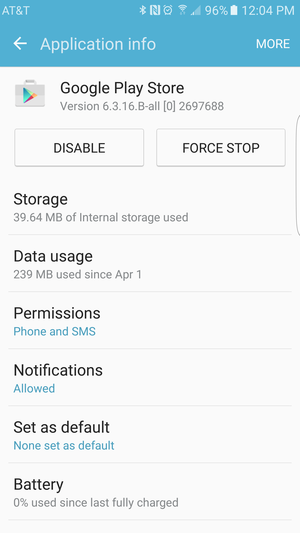 Too often you need to force stop the Play Store and start over to solve stability issues.
Usually it's when I'm doing something with another app, and I'll get the pop-up notification that the Play Store has crashed. The best fix then is to clear the cache or even restart the device.
It happens too often for such a crucial application. Whatever behinds-the-scenes work is required to bring this under control needs to happen, quickly.
Polish the web experience
One of my favorite things about the Google Play Store is that you can quickly launch a browser tab on the desktop and jump right in. With Apple's App Store, you have to fire up iTunes, go make a sandwich, and maybe by then you'll be able to look for apps.
But there are still a few places where experience could be better. One is in re-installing apps you've already downloaded. Recently I changed phones again (hey, I do this for a living) and bought a Galaxy S7 Edge. I decided to go the clean install route since I had a billion apps on my previous phone that I didn't want to reinstall.
So when browsing the Play Store I came across ESPN—which was listed as "installed" on the web, even though it wasn't on either my GS7 Edge or Nexus 7.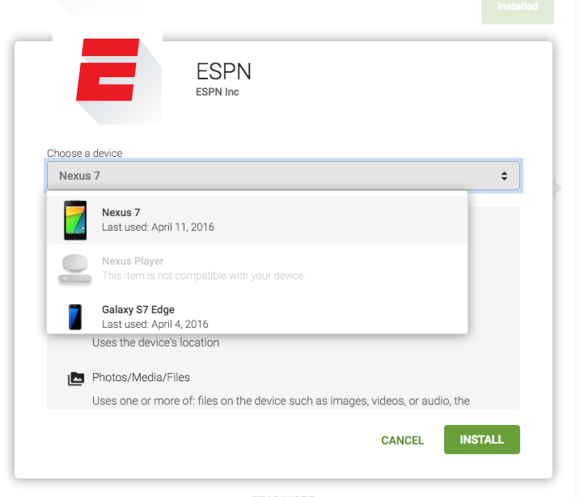 Is the app already installed or not? You have to click through to find out.