Five things Google can do to fix the Play Store
Google's digital storefront is lovely, but there are some areas the company could shore up for an even smoother experience.
You have to then lick the Installed button to find out if it's actually on one of your devices or nowhere to be found. It seems a better method would be eliminate the Installed notice if it's not actually active on any device, or maybe your most recently-used device. Or just tell us that it's installed on some of our devices, but not all of them.
And it seems that order in which the toggle displays devices is haphazard. Sometimes the one I used most often is at the top of the list, other times it's the Nexus 7 that has sat on the coffee table for a week. More consistency, please.
Kick out the dormant apps
At last count Google Play had over 1.5 million apps. Even though Google says it now tests everything before the app goes live, that's a wide open market to run. So there are going to be some issues.
One place to start would be apps that haven't been updated in, you know, three years. The ones with screenshots from Android Gingerbread (2.3).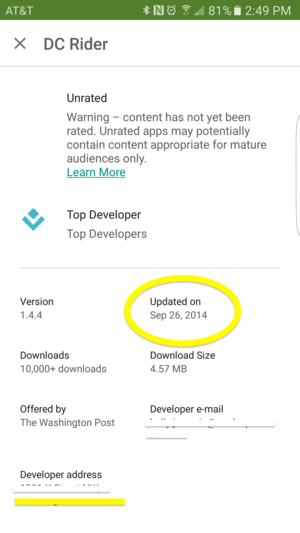 Some really old apps are still hanging out in the Play Store.
There ought to be some type of enforcement mechanism that kicks out apps that have been abandoned. They just clutter up the store when you're trying to find an app that you really want. And such apps ruin the experience for less tech-savvy users who may not realize they're downloading a relic instead of an up-to-date and functioning app.
Improve Play Store search
It's surprising to see a Google product that needs to improve its search capabilities, but that's certainly the case from time to time.
Oftentimes some apps just don't seem to match up with the search terms. Or you have to be very specific about the title of an app to find it, particularly if it's new. Reddit finally released an app, but it wasn't the top result if you searched for "Reddit." Or some odd apps will appear in a seemingly unrelated search.

Wait, why is Color Switch in this list?
Search is Google's speciality, but it seems at times even with this area it could be improved. Autosuggest also will start finishing your phrase based on what people have been searching for, not necessarily the name of an existing app. It's an unfortunate tease, and one way that Google could improve the experience.
Improve the app update madness
Whenever a new app launches or there's a major update, particularly to a Google app, you'll find the following announcement: it's rolling out to the Play Store in the "coming weeks."