Five tips and tricks for finding, sharing, and organizing your Google Drive on Android
Much of what you can go with Drive on your computer, you can also do on Android. Here's a guide to where all the new and important tools are.

Filter your Drive by file type for a much cleaner view.
This helps me if I've been working with a bunch of presentations and want to find one of those—no need to have Docs or Sheets jumble the search results.
Share and print like a pro
Google Drive is all about sharing, but there are a couple of things to consider before you print or send someone your hard work.
Printing from a mobile device still feels like a bit of wicked magic even though it's not that new. However, first you must prepare the cauldron known as Google Cloud Print. This can be tricky, so you may need to do some legwork to connect your printer to Google's service. But once you do, your printer is an option for anywhere you're signed in with your Google account. No need to mess with setting up the printer on each new device.

Print your files or share them as a different format.
Sharing, meanwhile, is available in a couple of different places. You can touch the "i" icon from the main file list or if you're inside a document touch the three-button menu at the top-right. Then choose Share & export.
From here you have a lot of different options, like adding another editor, getting a shareable link, or saving it in a different format. That's key if you work with others who prefer traditional Office or Adobe files and need something as a .docx or .pdf.
Get smart with widgets
Google Drive has some great widgets that can really speed up your productivity. A useful trick is to pin a specific file or folder to your home screen with the 1x1 widget. This way if there's a document you're working on you don't have to jump through Drive to find it.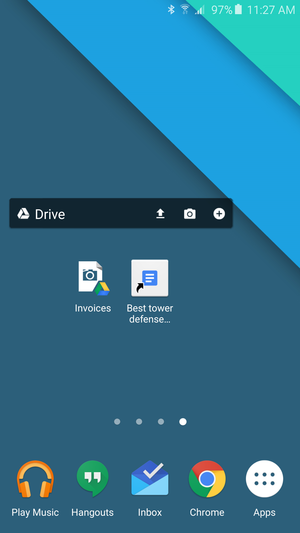 Widgets give you one-touch access to several Google Drive features.
I do this often when when working on an article so I can quickly launch that file and add in whatever thoughts or new ideas I came up with.
There's also a useful 3x1 widget that includes a scan, upload, and "new file" button. If you do a ton of work from your phone or tablet it's really worth it to have it on the home screen, especially if you like taking pictures of notes and saving them in your Drive.
With Microsoft Office also on Android, there's rather fierce competition for the title of productivity king. So pay attention to each new Drive update to find out what new tricks come out that can speed up your workflow even more.