Five tips to help you get the most out of Google Play Music
Google has built a top-notch music service, though you have to know how everything works to get the best experience.
While no one was looking, Google built the best music app out there. The problem for Google has always been getting people to take notice. The company doesn't have the marketing acumen and deep ties to the music industry like Apple nor the popular success of Spotify.
It's a shame, because Play Music does a lot of things better than other services. If you're a subscriber you get YouTube Red, which means you don't have to sit through annoying advertisements when you want to see the latest, trending videos.
There are trial offers all the time, so if you're looking for an easy way to manage your music and check out another streaming service, then these are the top features and tricks you want to try out to see if Google Play Music is right for you.
Keep all your music in one place
One of my favorite features is that you can use Google Play Music as your personal locker, even if you don't subscribe to the streaming service.
But first you have to get all your music there. If you're using the dreaded iTunes, Windows Media Player, or another program, your best bet is to download the music manager.
This program will upload all of your music from a directory you indicate on your PC. While that's the best bet for a larger collection, Play Music also has a built-in drag-and-drop tool for easy uploads.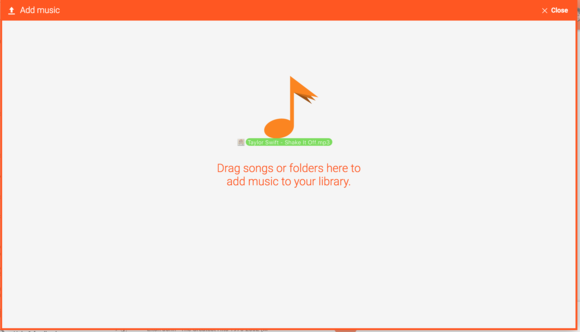 Upload one track at at time or an entire album with the Google Play Music upload tool.
From the slide-out menu on the left, select Upload music. Then you can select a folder, or just drop in individual tracks that you want to upload. They'll then be available in the web version of Play Music and anywhere you've installed the mobile app.
Google Play Music keeps all your music synced up across any device.
Same thing goes if you buy music from the Google Play Store. With one click, whatever you buy is right there in your library. By default it's streamed when you go to play it, but you can always touch the overflow button (three vertical dots) and save it offline.
Google also puts its algorithms to work in order to break out your music by genres so you can casually browse through them. If you subscribe to Play Music, you can create a music station from a song or album. I find it to be an excellent way to get more than just regular replays out of your favorite tracks.