Galaxy Note 3: Even more features packed into a (slightly) bigger body
Samsung threw everything but the kitchen sink into its latest not-quite-a-phone, not-quite-a-tablet. No wonder it's so big.
Another day, another device—that's what Samsung makes us feel like with the exhausting lineup of phones and tablets it's debuted in the last year. Its latest release, however, the Galaxy Note 3, is at least worth paying attention to. It's the third iteration of the company's not-quite-phone, not-quite-tablet Note line, and its internal specifications make it one of the most powerful handsets out on the market right now. It also features 4K video recording and a new suite of applications for the S-Pen aimed at making it easier to jot down notes, leave yourself reminders, and multitask. For Samsung, this is one of its better phones available out on the market right now, but like the rest of its device family, it's just as bloated.
Bigger—but not by much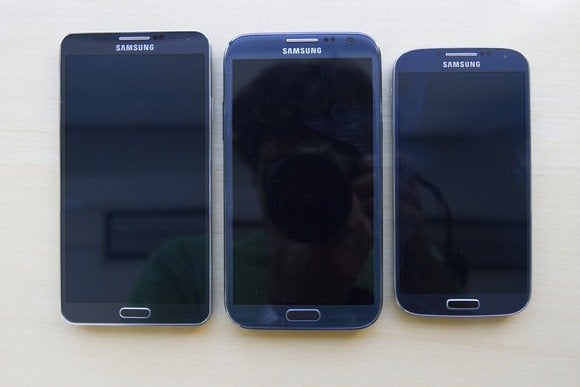 MICHAEL HOMNICK. The Galaxy Note 3 (left), followed by last year's Galaxy Note II and the Galaxy S 4.
The Note 3 is stylish with its rounded corners and a faux-leather backing, but the fake metal banding and plastic-y chassis still makes it feel like a cheap phone. At 0.33-inches thick, its 5.95 x 3.12-inch chassis is comfortable for composing long emails and tapping out witty Twitter responses, and as with the Note II, there is still a setting for one-handed operation if you need your other hand to hold on to something else.
Samsung kept the device relatively close in size to its predecessor, which hopefully means that it won't dare to get any bigger in future versions. While the Note 3 may not be as massive as the 6.3-inch Galaxy Mega, it's still too awkward to hold up to your ear for phone calls.
The Note 3 features a 5.7-inch, 1080p, 386 pixels-per-inch (ppi) Super AMOLED display. That's a huge improvement over its predecessor, which featured a lower resolution display than the original Note. Its screen is certainly bright, but it uses up a significant amount of battery life when it's at its fullest, and you still can't see it too well out in direct sunlight. Still, it's hard not to appreciate that large screen when you're watching Netflix on the train ride to work, or even perusing emails.
The Note 3 did not pass my pocket test, nor did it pass my purse-pouch test. This isn't a device to buy if you're looking for something compact and minimalist. Bear in mind that the Note 3 also comes equipped with a MicroUSB 3.0 port. You can still use a MicroUSB 2.0 cable to charge it and transfer data, but it won't take advantage of its USB 3.0 speed capabilities.