Galaxy Tab S2 review: A worthy counterpart for your smartphone
Samsung's second-gen tablet series knocks it out of the park again with solid performance and a lighter-than-Air chassis.
The Galaxy Tab S2's Super AMOLED display is just as bright and vibrant as the rest of the Samsung device family. It's set at a 2048x1536 screen resolution, which nets 320 pixels-per-inch (ppi) on the 8-inch Tab S2, and 264 on the 9.7-inch variant. I especially like the display at its lowest brightness setting, which is dim enough that reading an ebook before bed won't stimulate my eyes so much that I can't fall sleep.

Reading is comfortable on the Galaxy Tab S2. Credit: Florence Ion
Samsung switched to a 4:3 aspect ratio for this year's Tab S2 duo. It makes watching Beverly Hills, 90210 a pleasure because it actually uses up the entire screen, though you'll have to be careful not to cover those bottom speakers or what you're watching will sound muffled. I'm also not too keen on the fact that the USB port and headphone jack are both along the bottom edge; when you have them both plugged in, it's hard to hold the tablet in portrait orientation without the cords getting in the way.
A solid, reliable tablet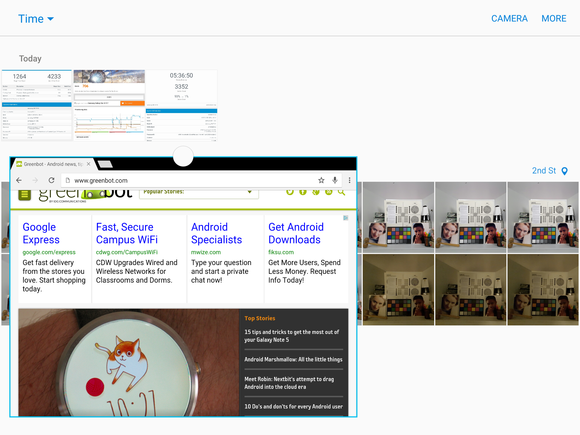 The Tab S2 is powerful enough to handle MultiWindow mode, which uses two apps at once, simultaneously.
Both the 8-inch and 9.7-inch Galaxy Tab S2 come with an octa-core 1.9GHz Exynos 5433 processor and 3GB of RAM. It's a slight specification bump from last year's Tab S, though it's unnoticeable. The Tab S2 is a casual-use device; it's not particularly aimed at professionals or digital artists, though it can handle arduous tasks. You also won't have to worry about it lagging and freezing up while launching apps.
I've read several Galaxy Tab S2 reviews that mentioned the device's less-than-stellar battery life, but I've had a different experience. Both tablets got through a day's worth of mixed usage, including playing games, streaming video, and reading ebooks at the brightest display setting, though by the end of the night they needed to be plugged in. Both tablets also offer the Galaxy S6's fast charging capabilities, so you'll be able to charge it up enough in an hour to last through a flight from New York to San Francisco.
People still use their tablets to take photos
There are still people out there who shoot photos with their tablets. I'm not happy about this, but I've learned to accept that this is a thing that happens in the world. And anyway, it's not like tablet makers are discouraging this behavior. Samsung certainly isn't.

On the bright side, if you choose to snap photos with the Tab S2, you're covered.
Previous Page 1 2 3 4 Next Page