Galaxy Tab S2 review: A worthy counterpart for your smartphone
Samsung's second-gen tablet series knocks it out of the park again with solid performance and a lighter-than-Air chassis.

The Tab S2's low-light performance is only half as good as its Galaxy smartphone counterparts.
Samsung improved the 8-megapixel rear-facing camera sensor on the Tab S2 by enlarging the aperture so that it takes better photos in low light situations. This will prove helpful if you're using your tablet to snap a quick and candid photo here and there. The front-facing camera is only 2.1-megapixels, however. I would have rather the Tab S2 come equipped with the same wide-angle, 5-megapixel sensor featured in the latest crop of Galaxy smartphones, since selfies are more likely to happen when you're casually hanging out on the couch with your tablet already in hand.
Same old software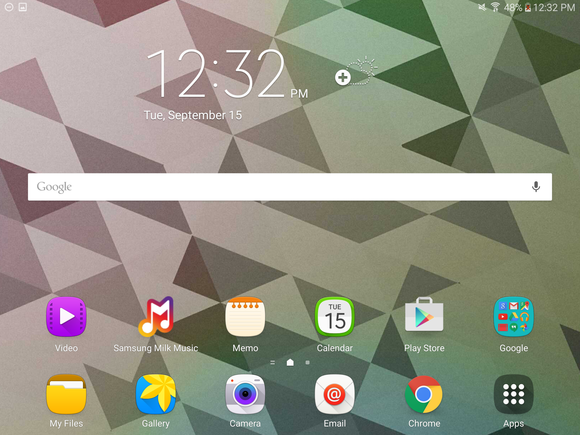 I've seen this Home screen so many times this year.
Both versions of the Galaxy Tab S2 run Android 5.0.2 right out of the box, though there's an Android 5.1.1 update waiting once you set up the device. You'll have to contend with a suite of Microsoft apps that you can't delete, but at least there's an expansion slot for more space.
Samsung also bundled in applications like SideSync, which lets you swap files and things between your device and your Mac or PC, and Quick Connect, which only works with compatible Samsung televisions. There are also a slew of Galaxy Gifts available to you once you sign up for a Samsung account, including six months of The Economist and several Hearthstone freebies.
I ran a few benchmarks on the 9.7-inch Tab S2 to see if the Android update made a difference in software performance, and it doesn't. But for what it's worth, I spent a year using the Galaxy Tab S and I still consider it one of the best tablet devices Samsung's ever made. It hasn't slowed down since I set it up with my account. I hope to say the same about the Tab S2 a year from now.
A worthy update

Samsung's got another hit on its hands with the Galaxy Tab S2. Credit: Florence Ion
It felt weird writing this review nearly a week after Apple announced the larger, professional-grade iPad Pro. Typically, when Samsung announces a new tablet device—or any device, really—there's a bunch of commotion about whether it will have the same impact on the Android world that Apple's devices do. But that's not the case here.
The Galaxy Tab S2 is extremely laissez faire—it doesn't take itself as seriously as last year's Tab S, which Samsung constantly compared to the iPad in its marketing. It's for Android users who want something a little more premium than Google's Nexus offerings, but don't particularly care about whether or not it runs stock Android.
Previous Page 1 2 3 4 Next Page