Google announces two Nexus phones, Android 6.0
Android refresh -- called "Marshmallow" -- seen as improvement on container software for business use.
All of Google's latest technology, including improved machine learning capabilities in Android 6.0, are intended to improve the user experience, he added.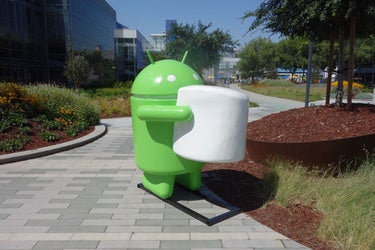 A statue for Google's Android Marshmallow operating system sits on the Google campus in Mountain View, Calif. Credit: Martyn Williams
Android for Work, which Google announced a year ago, now is being tested, or is partially or fully deployed by 10,000 companies, Pichai added. These organizations include the World Bank, the U.S. Army and Guardian Life.
Android has not been as popular as the iPhone for use in U.S. businesses, even though Android devices from multiple manufacturers far outweigh the use of iPhones globally for consumers and workers alike. In the second quarter of 2015, Gartner recently reported, Android took 83% of the global smartphone market, with iOS getting 12%. Android for Work is designed to add capabilities needed by IT shops, including centralized management of apps, devices and services.
But the phones "are a way for Google to show off its software and now more than ever they seem to have to do that because successful Android developers are [changing or] layering their 'stuff' on top," said Carolina Milanesi, an analyst at Kantar WorldPanel ComTech.
The latest phones from Google are more about "proving what Android 6.0 can do as well as what a pure Android experience at a competitive price point can offer," she added. Nexus sales have not made a difference to Android overall, totaling only about 1% of all Android sales, she said.
"But Nexus has helped LG prove they can do good devices," she said.
"Both new phones look competitive, especially if you are looking for the highest-end Android smartphones," added Patrick Moorhead, an analyst at Moor Insights & Strategy.
Compared to the latest iPhones, the new Nexus phones will cost less and offer distinctive laser camera focus and higher-resolution displays, he said. "With these new phones, Google will continue to hold onto Android enthusiasts, but I haven't seen anything that would pull a lot of Apple customers over," Moorhead said.
However, for businesses, Google is moving in the right direction with Nexus running Android, Gartner's Dulaney added. "Google has needed to have at least an option with Nexus like Apple does, where there are devices that receive updates directly from Google with the stock Android image," he noted.
Without Nexus, the process of upgrading through various Android phone makers involves multiple steps. This has proven frustrating for business users who hope to stay abreast of Android advances and take advantage of them as soon as possible.